"Albuquerque has a notoriety as being a pretty tough place, a pretty tough town. High crime rates and all that," says Adrian Gonzales, founding partner and coach for the Elevate gym in Albuquerque, New Mexico. "It's fitting that a tough town would breed tough people."
Not just breeds — attracts. Located in the Rio Grande Valley, Albuquerque has emerged as a hotbed for the combat sport of mixed martial arts (MMA), driven in large part by the Jackson/ Winkeljohn Gym. For the past 20 years, Greg Jackson has been teaching a fierce fighting technique that incorporates kickboxing, Jiu-Jitsu, wrestling, grappling, judo, and moves from multiple other disciplines. Meanwhile, Mike Winkeljohn — himself a 5th degree black-belt — is considered by many to be the premier striking coach in mixed martial arts, sought out by the sport's elite combatants for tactical and strategic training.
"Because of who they are and what they've accomplished, being able to bring so many fighters up at an early stage of the MMA game — to where it is now — they've developed quite a reputation," says Gonzales, talking about the immense local influence of Jackson and Winkeljohn. "So now you see a lot of the best fighters in the world — Russia, Brazil, Mexico, all nationalities and countries are represented at Jackson's. One thing that makes Albuquerque so unique is it has that tough culture and it's bred a lot of tough fighters, including Diego Sanchez and Carlos Condit, who are homegrown guys. But now other world class fighters are being attracted to the city."
With 13 years as a strength and conditioning coach under his belt, Gonzales has developed his own local reputation, working with a client-base that has included both gritty Albuquerque natives — Carlos Condit, Damacio Page — as well as that incoming global talent, including such world-class fighters as New Yorker Jon "Bones" Jones, Hawaii's Travis Browne, Belarusian Andrei Arlovski, and up-and-coming UFC Lightweight Rustam Khabilov from the North Caucasus.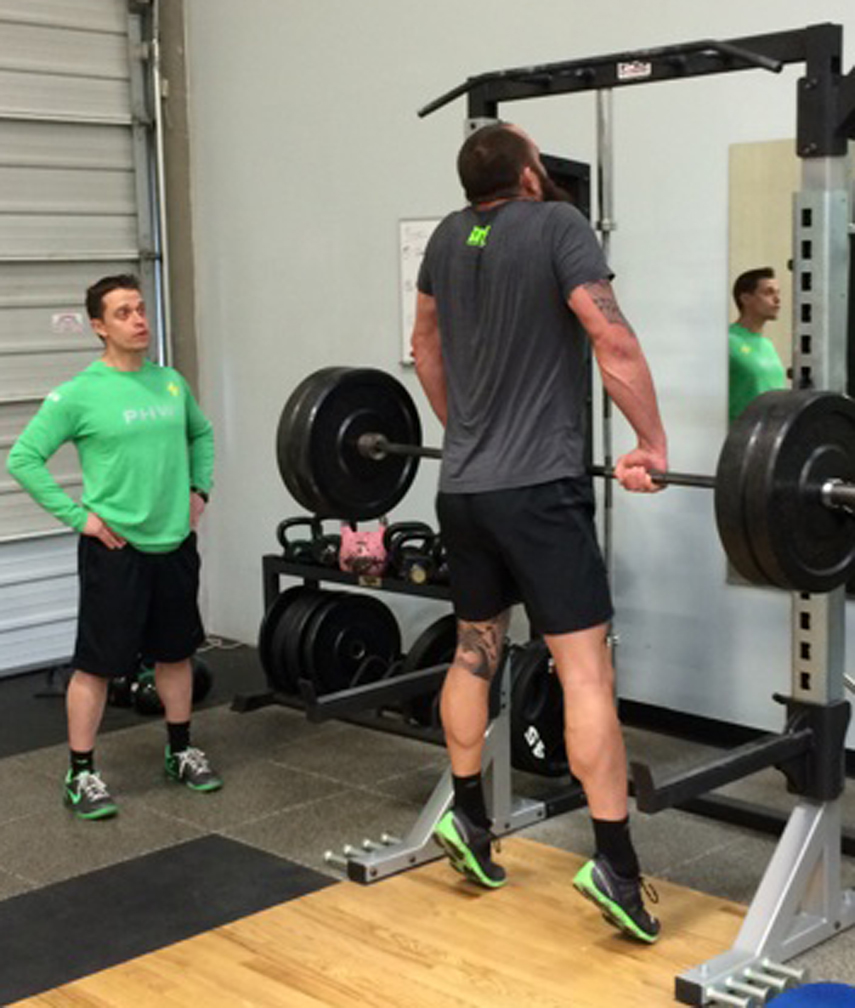 "I got my first opportunity to work with an MMA guy when Carlos Condit had decided about four or five years ago that he was going to switch camps," Gonzales says, describing a career path that led from beginnings as a box-gym trainer to the pursuit of specialty certifications and higher-level education to working with prep baseball players, several of whom he helped groom into MLB prospects with the Red Sox, Brewers, and Twins. "He (Condit) was coming off of a victory and knew he needed a little something extra to take him to the next level, and I just applied that good sports performance knowledge that I'd been studying and continued to study to develop programming for him and we've definitely grown together as a strength and conditioning coach and a client."
(Photo: Heavyweight Travis Browne executes an explosive lift.)
At Elevate's state of the art facility, Gonzales — along with his partners and coaches — focuses on sound fundamental techniques to develop their fighting clients into well-rounded, total athletes. Gonzales cites "energy system development" as one of their primary goals, and the facility distinguishes itself by having its own exercise physiology lab; there, fighters begin with a functional movement screening and a VO2 Max test, after which Elevate is able to offer blood lactate tests, resting metabolic-rate testing, and diet analysis. As a key part of that lab, Gonzales uses the Omegawave Team system to provide his fighters with regular physiological assessments.
"With Carlos Condit, for his last camp we probably had the best camp that he's ever had and we did it with what I would say was the least amount of effort," Gonzales says. "And that just means the least amount of time with him out grinding, out pounding the pavement for his cardio — applying the Omegawave as best we could helped us be much more efficient with our training."
MMA doesn't simply require a fluid grasp of various martial arts disciplines and combat techniques; the sport also demands explosiveness and endurance pushed to their red-level extremes. One of Gonzales's primary challenges comes from the need to strike a balance between building the power to deliver punishing blows and the endurance to carry on through multiple rounds of ferocious grappling.
"What we've seen with the a lot of the MMA guys is a lot of them have very good high-intensity or high-end conditioning, which is kind of the nature of the sport," Gonzales says. "So when they go in their training and they spar, they tend to spar at 90-100% and they wrestle at 90%, so they're doing very little in the low-range. So with a lot of the guys we're establishing them as far out as we can from a fight, developing a little bit of an aerobic base and building a little more mitochondria, and typically if they can do that we can get them through camp feeling good and not so run down."
(Photo: Gonzales spots Khabilov on the floor press.)
"That stronger base really allows us to scale the rest of their workouts so we can train them anaerobically or glycolytically or really work on that ATP, that explosiveness and that power. They have the recovery they need to be able to give us a stronger and more sustained effort of those higher-end energy systems."
Gonzales likens all those sparring and wrestling sessions to an extended pre-season, so while fighters may only have a few sanctioned fights in a given year, they are consistently engaging in combat sessions that frequently mimic their competitive fights in both intensity and duration.
"Each week is that simulation or exhibition game, and they have all these exhibitions until they finally have that real fight, that Super Bowl," Gonzales says. "The big thing that Omegawave has been able to help me do with these guys is to help me scale their workouts. So I'm using the Omegawave data that I get from the fighters in the morning to steer their workouts and intensities that day. These guys coming in are averaging anywhere from 18-22 really hard hours of practice a week. And sometimes that's including their strength and conditioning and sometimes that's not, so sometimes you're looking at 20-24 hours of total exercise time — that's a lot."
"And, generally, these are very high-intensity sessions, so using the Omegawave data I'm able to get these guys in here and communicate with our coaches and say 'hey, these are so-and-so's numbers today,' and if their central nervous system looks like it's a little out of balance we'll see if we can do some things to excite that central nervous system. Maybe his adaptation reserves will be in the toilet and we're seeing that he's started to trend toward a fatigued state or an over-trained state, then it allows to scale back the volumes and intensities of our workouts. Or, conversely, it allows us to scale it up. We've had situations where we have top UFC-fighters, UFC Champions, and they come in and talk about how fatigued they are — then we get an Omegawave reading on them and we see that they're good to go. And some of those times they've had some of the best practices or the best strength and conditioning sessions of their entire camp."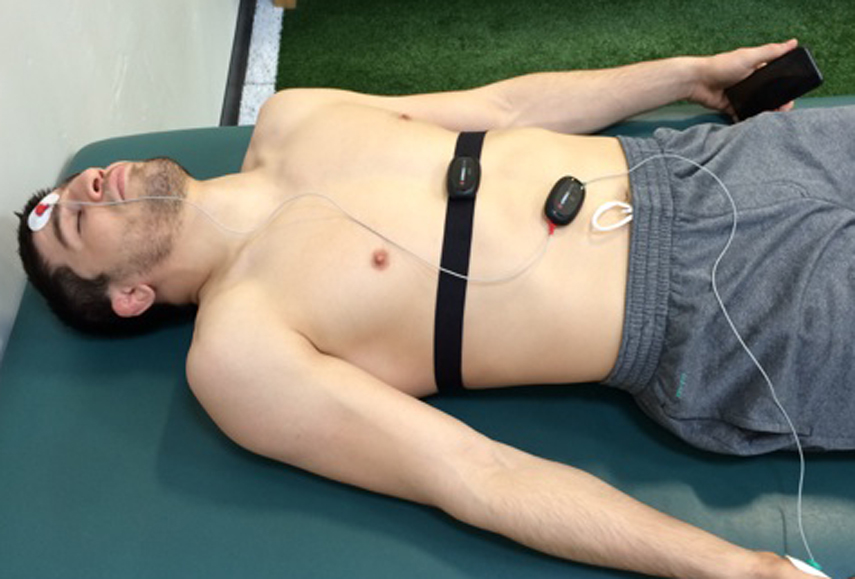 In addition to the altitude, the summer heat, and the culture of one-upmanship that drives fighters into max-out practice sessions, due to the violent nature of the sport Gonzales has to take into account the constant barrage of bruises, tears, contusions, and concussions that come from hand-to-hand combat.
"All these guys are chronically injured. I'm convinced that there's not a single fighter that gets to a fight and they don't have some sort of injury or some sort of something going on," Gonzales says "We've seen it show up on the Omegawave when they're dealing with some kind of acute injury, the Omegawave will tell us that their body is in a state of stress, it's in a state of fatigue. Whether that shows up in the central nervous system, or we're starting to see that their stress index is starting to drop, no matter what we're able to look at that Omegawave and what we're finding is that it fits the state of the fighter."
"We've had a couple of instances where we've had fighters come in with probably mild concussion symptoms, and even though it would require a little bit more detailed analysis of it, we've seen some of the Omegawave data that seems to support that they've suffered some kind of concussion: their CNS patterns are real wacky, their body's in a continual fight or flight state, we probably have to do more ongoing analysis with the concussions but it does seem to fit and I'm positive there is a correlation there."
Though MMA fits the tougher-side of Albuquerque's image, the team at Elevate isn't exclusively focused on the sport: as with their fighters, their mission is to develop total athletes, welcoming members from across the full fitness spectrum.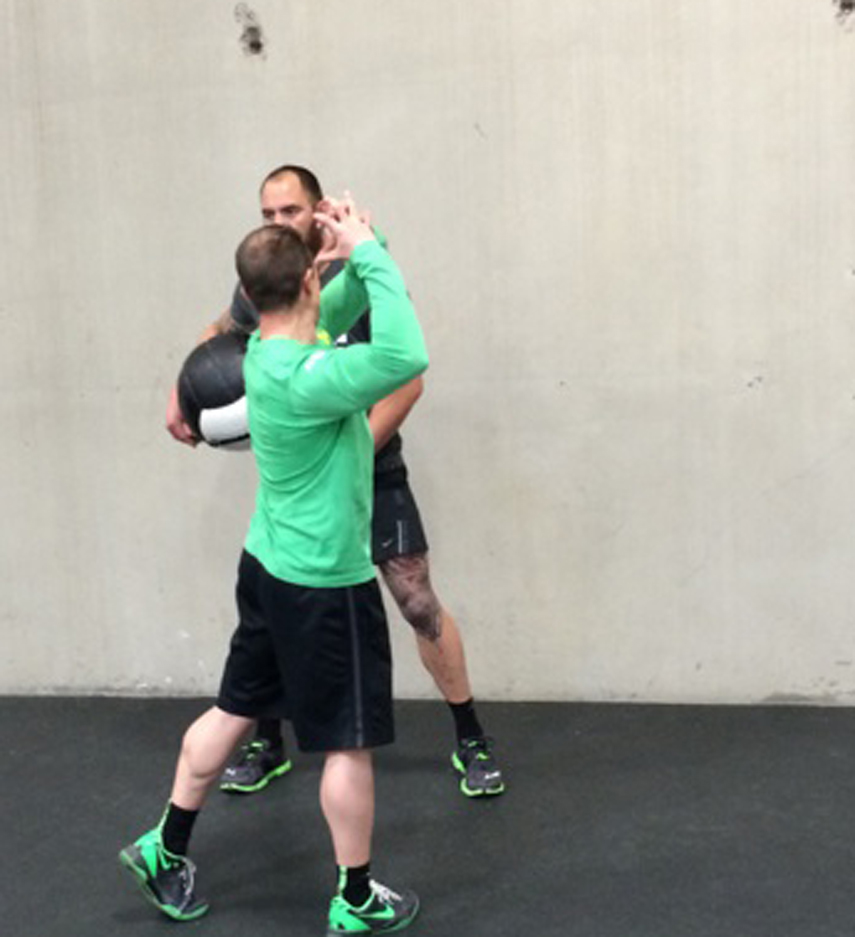 "We're a strength and conditioning facility, but beyond that we're really a strength and conditioning community," Gonzales says. "We've created a community of mixed-martial arts athletes, professional baseball players, football players, all the sports you can imagine — but we've also created a community of regular individuals, people who are all goal-and-exercise-oriented individuals. We have people training to run the first 5K in their life and people who are trying to PR at the Boston Marathon. That community tends to breed a competitiveness and a great atmosphere, so that at any given time you can walk in to Elevate, you'd have the music bumping, and you'd see guys like Jon Jones and Travis Browne training alongside a 15 year-old kid who's trying to make his varsity soccer team, and there might be a 60 year-old woman right next to them training to do her first triathlon.
(Photo: Gonzales working the heavy ball with Browne.)
"But that's the culture and the vibe of Elevate and we hope to take this national," Gonzales says. "We've been very fortunate in our short time of operation to have a good bit of success and we hope that continues and we can bring that to other parts of New Mexico and ultimately other parts of the U.S., because we really believe in what we do and we have a very sound scientific approach to our techniques and to our methodologies — and when it's applied correctly people have tremendous benefits."