"It's a long season," says David Tenney, emphasizing the l-o-n-g as he describes an MLS schedule that encompasses anything but "a season." This year, the MLS Combine began January 9th, players reported two weeks later to kick off their preseason training, the regular season stretches from the beginning of March to early November, and the deepest playoff runs won't wrap up until December's MLS Cup. Amid this yearlong season, as the Manager of Performance and Sports Science for the Seattle Sounders, one of David Tenney's key responsibilities is finding ways to keep his players on the pitch.
"Quads, hamstrings, hip-flexors, calf strains… within soccer you see a lot of issues there with the overuse and lack of recovery," Tenney says. "We utilize Omegawave for every player who plays significant minutes in a first team game or reserve team game — we look at them and the recovery day after. We definitely look at their response to that event — if it's an away game we'll wait until we're done with the travel so then we get the overall response to the game, plus the travel plus the lack of sleep — maybe playing at altitude –all those other external factors."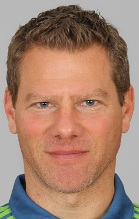 By this point in his career, Tenney has seen the game from a wide variety of angles: playing goalkeeper and serving as team captain for the Virginia Tech Hokies (1989-1991); moving abroad to play professionally in Germany; returning to the U.S. in the mid-nineties to man the nets in the rapid action of the Indoor Soccer League; and then beginning a coaching career as the goalkeepers and fitness coach at George Mason University before jumping up to Kansas City and the MLS in 2007. Despite his well-trained, well-traveled eye, Tenney doesn't rely on observation alone in his approach to injury-prevention. First — following competitions — Tenney has the Sounders players answer an iPad-based fitness/freshness/fatigue questionnaire. Then, he correlates those answers with as much firm scientific data as he can generate.
"During the week, the players wear GPS within every training, as well as heart rate monitors," Tenney says. "So then we can really look at this mechanical load of work performance on the field versus the internal load of heart rate response. And that data toward the end of the year is pretty conclusive as we see some sharp declines in efficiency in internal load versus mechanical load."
Though self-reporting and loading data can give insight into fatigue, the next question becomes what to do about it. Rather than rely on trial and error, Tenney uses Omegawave to help guide his recovery solutions.
"Generally you can watch the game and pick out guys you think are tired and not-tired," Tenney says. "But with Omegawave you can break the data off into two parts: looking at the HRV side (the autonomic response to the event) as well as using DC Potential markers to look at some CNS fatigue. There are two different systems you're really looking at to see which one of those two may be fatigued — or both. You don't often see both fatigued — typically it's one or the other with us — but with your eyes you'd never be able to see which one of those systems is fatigued. And then of course your recovery modalities, whether it be massage or sauna or cold whirlpool or whatever it is, those may then be dependent on what form of fatigue might be higher within an athlete."
Unlike strength and conditioning coaches in the NFL, MLB, and NBA — who can pace their superstars to peak come playoff time — Tenney also has to contend with the international demands on his elite players. In addition to the constant grind of the MLS season, Tenney continually surrenders key performers to an even more rigorous level of competition.
"At the end of last year, with Brad Evens, Eddie Johnson, and Clint Dempsey, we were losing 3 guys for each [World Cup] qualifying match — so we were losing almost a third of our starting lineup, and they were going into an environment that's even higher intensity," says Tenney. "With intercontinental travel and all that, it's really, really… tricky. They come back — Clint was definitely a hard scenario because he'd missed pre-season with Tottenham and then he came to us and had World Cup qualifying. He was clearly fatigued, but still also needed to gain fitness. It was really challenging, and still, I think it's just right now that he's finally getting the finishing edges on his fitness since he's been at Fulham for a month (on loan). He's finally got that month of training with no games that he really, really needed."
While those scenarios put Tenney in a reactive mode, the coach is constantly on the lookout for proactive innovations. Last year, Tenney and the Sounders data analyst Ravi Ramineni began to conduct their own method of predictive modeling, developing an algorithm that takes into account Omegawave Readiness and HRV scores, Vitamin D scores, past injury history, and other factors; while pushing forward with those exciting future applications, Tenney still relies on Omegawave for more day-to-day concerns.
"I think it's important to use Omegawave as a tool to measure response — it's measuring response to the load or response to stressors, and those stressors for our athletes are not just the game, it's all the environmental factors of heat, travel, food, dehydration, all those things," Tenney says. "Obviously, the further one is fatigued from that overall event, the longer the recovery time. Or, the more specific recovery measures that athlete might need. So we take that recovery day after, and we've got up to four seasons of Omegawave data on certain athletes so we can really see relative to their baseline response to games how far they are away from their normal state."
Above and beyond keeping his athletes healthy enough to take the field, Tenney also faces the challenge of maintaining the speed, power, and explosiveness that are as vital — if not more so — than the aerobic demands of the game.
"I think there's two elements," Tenney says. "We've seen that off-season compliance and max-strength work in the off-season seems to build-in a neuromuscular resiliency. Which makes sense — if I'm doing explosive things in the weight room over the course of the off-season, then theoretically my CNS and neuromuscular system will be better primed and able to cope with that stress and that loading. Players that typically like to go back home and go on their thirty minute beach runs twice a week are the ones that have quad issues and hamstring issues when they get back to pre-season. Part of it is just a muscular-strength issue, but we've also seen some of our non-compliant/off-season athletes, when we get back into pre-season their DC Potential scores are shockingly low. And I do attribute a lot of that to the fact that their CNS has lost some of that efficiency that they had in-season."
"And once you're in-season," Tenney continues "I think it's important to take a page out of the track and field book — athletes have to sprint and athletes have to do some maximal work in training. And sometimes what a number of soccer coaches like to do is a lot of small-sided games, where heart-rates might get high but velocities might stay relatively low — and if you don't monitor it closely, you could go all week and a player might not get above 90 percent of their maximum velocity in training. And then that player — from a neuromuscular standpoint — is not really prepared then to make multiple maximal sprints on game day because he didn't do it all week in training. So I think those two elements really help prepare a player to be able to withstand that power-loading over the course of a season."
The wear and tear of that season is something Tenney understands from both outside and inside the lines: he suffered through shoulder issues late in his own goal-keeping career, and suggests that he was more susceptible to injury toward the tail-end of each season, once the long grind had caused him to lose his base of upper-body strength.
"I had my share of broken legs and shoulder reconstructions and things like that," Tenney says. "Knowing what I know now, we see such a decline in power over the course of a season… when it's not addressed properly with training. Even up through the nineties that was not being addressed very appropriately across many countries — including the US. I think we've been able to integrate appropriate strength training in-season a lot better than we used to."