My name is Jens Dahlman. I'm 33 years old. I'm a husband and a father. I'm a pilot. I'm an athlete. I am an ironman. This is the story of my road to the 2013 Ironman World Championships in Kailua-Kona, Hawaii.
"A goal is a dream with a plan." — Chris McCormack, 2-time Ironman World Champion
The Hawaii Ironman is one of the hardest single-day endurance events in existence. First you swim 3.8km in the ocean, then bike 180km in high wind conditions and finally run a marathon across the lava fields, all under the scorching tropical sun. I had the dream of qualifying there in 2013, so I had to lay down a careful plan to make it an achievable goal. Getting to Kona would be my primary objective for the season.
The first thing to decide was the qualification race. By July 2012, when I decided to target Kona, almost every European Ironman race was already sold out so I didn't have many to choose from. From the remaining options, I focused on the Ironman Kalmar because of the flat course that suited my relative strength on the bike. The timing of the race wasn't perfect though, being only two months out from Kona. It would be hard to recover and build up again. In addition, I would only have one shot at it since there weren't any races left if I failed in my attempt.
I. Optimized Training Plan With Omegawave
Choosing Kalmar for qualification did give me plenty of time to prepare, however. I made a progressive training plan for the season with a few key half-ironman races on the way, also adding some Olympic distance to keep my speed up.
By this time I also began using Omegawave. Although somewhat skeptical at first, I started using their new personal application as a beta tester. I was really excited about the possibilities the service could provide. Omegawave would help me optimize my limited training time and get the most out of it while keeping me healthy.
With this tool and the plan, I was good to go!
II. Season 2013. A Leap Forward In Performance
Early-Season Racing
The race season kicked off with Ironman 70.3 Mallorca. Considering it was an early-season race in May, my performance was predictably modest. But I love the race and all the possibilities the beautiful Spanish island offers. The feeling there is superb and I will definitely return.
My bike power seemed to get a jump-start from Mallorca and I was suddenly pushing over 20 watts more during training. The training plan seemed to work well, which transferred to race efforts and I started to see positive results. First came the win in Vantaa Triathlon, which is an Olympic distance race. This was a C-category race for me so I didn't do any tapering: besides, a quick consultation with Omegawave's application told me I was ready enough. My result proved that assessment correct!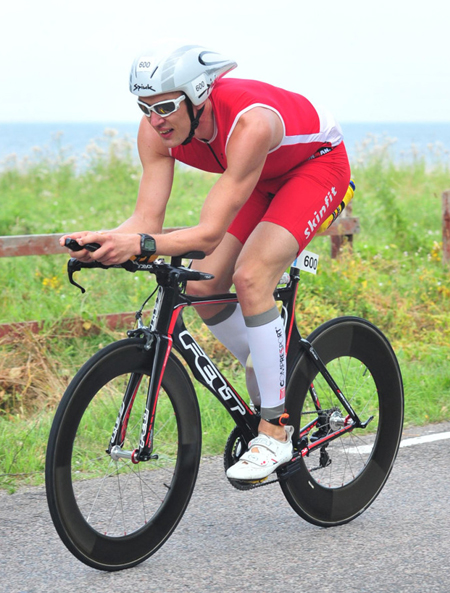 The next race was in early June in Berlin. It was again an Ironman 70.3 race., serving as my early season A-race. I was hoping for a strong result, though winning my age group of M30-34 was still more than I could expect. I was especially pleased with my bike performance, which seemed to have stabilized to this new level. I even qualified for the 70.3 World Championships in Las Vegas, but I had to turn it down because I was committed to go to Hawaii and couldn't afford to do both. After Berlin I had a well-earned week off of training.
Ironman Build-up
I got back in the saddle a few weeks later at the Kisko Triathlon, and winning that race brought me full circle since that was the very first triathlon I participated in back in 2007.
This year's Finntriathlon, half-iron Finnish Championships, promised to be a spectacle with its record-breaking number of entrants and a stacked elite field. I really wanted to do well there. I figured that if I had a good day and a few of the others didn't do so well, I could reach the top 5… and that's exactly what happened! I finished sixth overall, but one of the athletes ahead of me was actually Estonian so he wasn't counted in the championship results.
After Finntriathlon, there was only a month to go before Ironman Kalmar. I needed to get back training as soon as possible. Unfortunately, Omegawave's readings were showing I still wasn't ready for any hard training on the Tuesday after the race, so I had to downscale my sessions for a few more days. We then headed to Tuscany to spend some family time and I used those spectacular surroundings for my final build-up training. My bike in particular got a workout on the endless roads that wound between vineyards and castles. Finally, I started to feel that I was ready for Kalmar.
III. Eyes On The Slot
Ironman Kalmar presented a rather different side of itself this year in terms of the weather. While last year's race had perfect conditions, this year we had to fight very strong winds and it definitely slowed down the whole field. The sea felt like a gigantic washing machine with the choppy waves. On the bike course, I realised immediately that it was going to be a longer day at the office. Just getting over the bridge to Öland seemed to take forever, and felt a bit dangerous as well. Finishing within the time of last years Kona qualifiers' would be tough.
I decided to just keep going at my target zone and not worry about the finish time, as I was confident it would be enough for me to qualify. And it was! After digging deep in the marathon I finally reached the finish line, crossing the crowded city centre with my wife and daughters cheering me on. Five slots were on offer and I had finished second in my age group and third amateur overall in a time of 9:06. I felt tired and battered but happy. I was heading to Kona!
(Read Part II HERE)