Playing in this past July's Pan Am Games, the Canadian Men's National Basketball Team proved the program's depth and quality by pulling off a dramatic, overtime victory over the United States and winning silver in Toronto, the team's first ever Pan Am medal. Building off that momentum, this month Team Canada begins preparations for the FIBA Americas Championship, studding their roster with an even greater mix of NBA talent—including 2014-15 Rookie of the Year Andrew Wiggins, sharpshooter Nick Stauskas, and seven-footer Kelly Olynyk—who will represent their country alongside former number-one lottery pick Anthony Bennett and future University of Kentucky freshman Jamal Murray.
As they train for FIBA Americas, Team Canada's goal is greater than bringing home another medal: playing in Mexico, the team will be competing to qualify for the 2016 Rio Olympics. Just before the players returned to camp, we had the opportunity to speak with the team's strength & conditioning coach, Charlie Weingroff, whose lengthy experience as a trainer, physical therapist, and elite sport consultant has led to positions with the US Marine Corps, the NBA, and his current role with Canada Basketball.
Omegawave: For the Pan Am games, Team Canada suited-up players from a wide spectrum of backgrounds—what specific training challenges arise when you have athletes who range from soon-to-be freshman to guys in their thirties, and players fresh off the NBA grind versus others who've been playing in a variety of international leagues?
Charlie Weingroff: As far as training, the bigger challenge has less to do with the players themselves, and more to do with the logistics of our schedule. Because we feel very strongly about our testing program, and we have a fair amount of staff—at a given time there are only a maximum of 15 players and a minimum of 12—we feel pretty strongly that we can tailor individualized preparedness programs for our players. The problem is not so much that there are varying levels of experience, the problem is that we don't always have a lot of time for general physical preparedness. If Coach (Jay Triano) is going to run two-a-days, what we sometimes do in the afternoon really turns into skills training sessions—the biggest challenge then is trying to find an opportunity to actually train in the afternoon and have a belief that we're going to get something out of it. In the Pan Am, where we only had one week to prepare, we're not really going to get anything more than recovery training. So, we'll get a lot more done during what we do here for FIBA, but the biggest challenge is not the variance of the players—it's having legitimate time partitioned.
OW: Can you introduce the personnel and outline the different roles of the team's performance staff?
CW: The name of our High Performance Staff is called the "Integrated Support Team" (IST). The head of the IST is a fellow by the name of Sam Gibbs. Sam has been with Canada basketball for many, many years, and over the last (several) years, he's started to fill out his support team. He's also the lead medical. I'm the lead physical, where my role has been to craft the integration of medical, fitness, and science. My actual title is "Physical Performance Lead," but aside from being the head strength and conditioning coach, or fitness coach, my role has developed into the 'operations manual' of everything that we do. As full-time staff, we also have a sport psychologist, Dave Cox, and Jason Meehan, an athletic therapist—which in Canada is the equivalent of an athletic trainer. He's the number two medical. Obviously, I'm also a physical therapist, so when needed, I will also support the medical side. We have a head nutritionist, Dr. Marc Bubbs. We also have a strategic partnership with Nike, where Keith D'Amilio and Ian Muir (who are employees of Nike) will be key members in terms of what we do with sport science.
Then, we have levels underneath [with designated medical and fitness staff members]… It's almost like an academy, what we're doing with our U-16, U-19, and University teams. Everything that Sam, Jason, Keith, and I are managing at the senior level, we have scaled down versions—as resources allow—for the younger teams.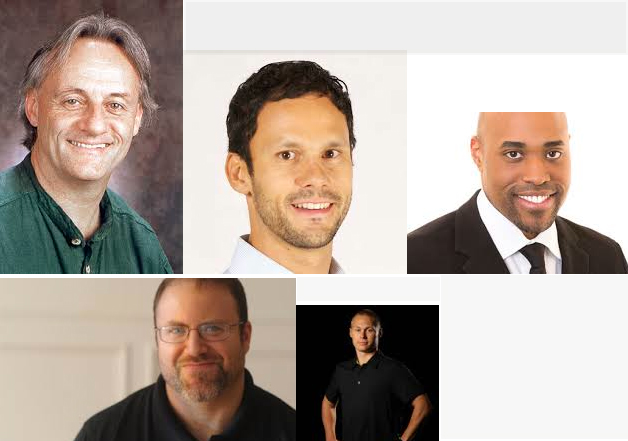 Team Canada's Integrated Support Team (Clockwise from top left): David Cox, Marc Bubbs, Sam Gibbs, Keith D'Amilio, and Charlie Weingroff
OW: How early before a major tournament are you able to begin working out as a team?
CW: The FIBA Americas won't begin until August 30th, and we'll start our camp on August 13th. So we'll have physicals for any players that weren't with us for Pan Am, where they'll have to redo our medical testing and some of our baseline fitness tests. We may have as many as seven or eight new players that will be in camp starting [August 13th]. So we'll be in Toronto with two-a-days—at coach's discretion—for about a week and a half, and then we go to San Juan, Puerto Rico for roughly a week. We'll play three or four games there at a tournament against some of the teams that will actually be at FIBA Americas (these will be 'friendly' games), and then August 30th we start the first pool of games in Mexico City.
OW: With those limited time frames and guys being pushed hard purely by on-court practice sessions, what goals do the Integrated Support Team set for what you'd like to accomplish while working with these players?
CW: Our biggest intervention that we feel very strongly about is what we do in terms of recovery. If we have our intern available, we can have at any moment four competent health care professionals working manual therapy. When there's manual therapy, or when we're doing cold tubs, that's our primary intervention and we expect that the players—whether we lean on them or not—that we have such a group of athletes that have gone through our program now and they really recognize that what we can do for them can help them get better. So, sometimes we just set up our schedule and we expect that the players will access us, and the fact that they do so makes us feel good about what we're going to see out of them the next day.
OW: With that goal of managing your players' recovery, how do you and the IST use Omegawave to achieve those goals? Are there any indexes that you keep a particular eye on?
CW: We value Omegawave in a couple different ways. On a regular basis, we're thumbing through the screens just to see if there are any significant outliers. So there's no one measure that we feel on that level is more important than any others—I think they're all very important. We're going to look at the Windows Of Trainability, and I absolutely write things where—if we see "Skill" is in the low yellow or red, then we absolutely are going to suggest that this player may do very well with a full practice, but don't keep him later to work on his technical skills.
We've also found that Adaption Reserves and Recovery Pattern—which are markers of sympathetic and parasympathetic—gave us an opportunity to decide which type of manual therapy would be most useful. A lot of manual therapies do have a sympathetic or parasympathetic shift—with all of our recovery protocols, the autonomic system is effected. So we decide based on those different parameters is it best for this person to get some needles, or some osteopathic or massage techniques? Or, should we really be bringing some heavy knuckles and elbows and different types of manual therapy if we believe Omegawave is telling us that sympathetic stressors are going to be useful? And then we can combine that with the suggestion to the coach that a player will benefit from quick bursts in practice, almost as if it was an interval training session, to give them that sympathetic response.
We're not really there yet in terms of being able to slam our fist on the table and say this manual therapy did this and it was because of what we saw, but it was interesting to see some of the changes on Omegawave the next day. And whether it made sense or not, it gave us some kind of indicator on where we should go and it gave us a reason to make some choices. We also saw a number of players that got stuck in parasympathetic overload, where they really couldn't crack a low or middle yellow, and these were some of the guys that probably came in overtrained, probably came in already at that level. Based on what we could accomplish in one week's time, we were very challenged. We also really learned that regardless of what Omegawave is telling us, it's not always an indicator of how well a player may perform; it's more important for telling us what we should expect the following day in terms of recovery. One assessment on Omegawave might look very, very poor, but then all of a sudden the player plays great and scores 22 points in the 4th quarter. Then, okay, what does that mean for the next couple of days?
OW: Have you and the members of the IST developed a method for delivering the most useful monitoring-based insights to Coach Triano or his assistants?
CW: We've done it a couple different ways and this year we settled on one. I think a lot of people get really enamored by graphs and colors and things of that nature. But I just write the player's name down and then write a few sentences that are relevant to what I would want to know if I was the head coach. We actually code the entire list of players by red, yellow, and green as per their Omegawave. We include every bit of orthopedic information or medical information. And then, how I interpret the Omegawave data, I just put that into some sentences. If for some reason a player didn't do an Omegawave measure that day, their name is in black. We have a system set up pretty cleanly where Jay (Coach Triano) gets that Word document while he's sitting at a table having breakfast with every other coach. And I try to get there as fast as I can if anybody else has questions. It's not fancy, and that's just a little bit of a hallmark of what we're trying to do—really just do the basics.
OW: With the goal of qualifying for the Olympics, Team Canada might have as many as ten NBA-affiliated players—how much contact and access do you have to these players during their regular season?
CW: All of our players know that they have full access to us at all times. However, we must be very, very sensitive and professional that these are players contracted to another team. So, we have guys that our staff is rehabbing that won't be playing with us, and we keep in close touch any time there are teams that do want to have more conversations with us. There are other teams that we don't hear word one. We recognize—particularly through what Jay has to accomplish and what our G.M. Rowan Barrett has to accomplish—that we really have to tread lightly with all the different teams, because if there's an issue of where they're not necessarily comfortable with how their player is being communicated with (whether they're with us or during the year), then we run the risk of their team not releasing them to play with us in the future. So, we're not at a point yet where any of our players are under our monitoring during their playing season, but we would certainly like to be able to get to that point.