Planning for, undergoing, and recovering from surgery was not how I envisioned spending this past summer. Rather, I'd hoped to be representing the United States in Australia at the Pan-American Games and swimming the 10K open water event. Unfortunately, a chronic shoulder injury had become unbearable (not only to train with, but also to live with), leaving me no choice but to set a date with the surgeon shortly after the 4th of July.
I went into surgery trying to have the most positive mindset possible. Having a 'fixed' shoulder would allow me to train harder than ever, become stronger than ever, and, hopefully, swim faster than ever before. That being said, I knew it wouldn't be easy. I've always loved training and pushing my body to its limits — so, the thought of laying on the couch for a week and then not being able to be in the water for 6-8 weeks was less than appealing. Furthermore, getting back into the water after such a long break was going to be an extremely frustrating and grueling process, from both a physical and mental standpoint. Most experts agree: one week out of the water requires two weeks of training just to return to where you left off physically.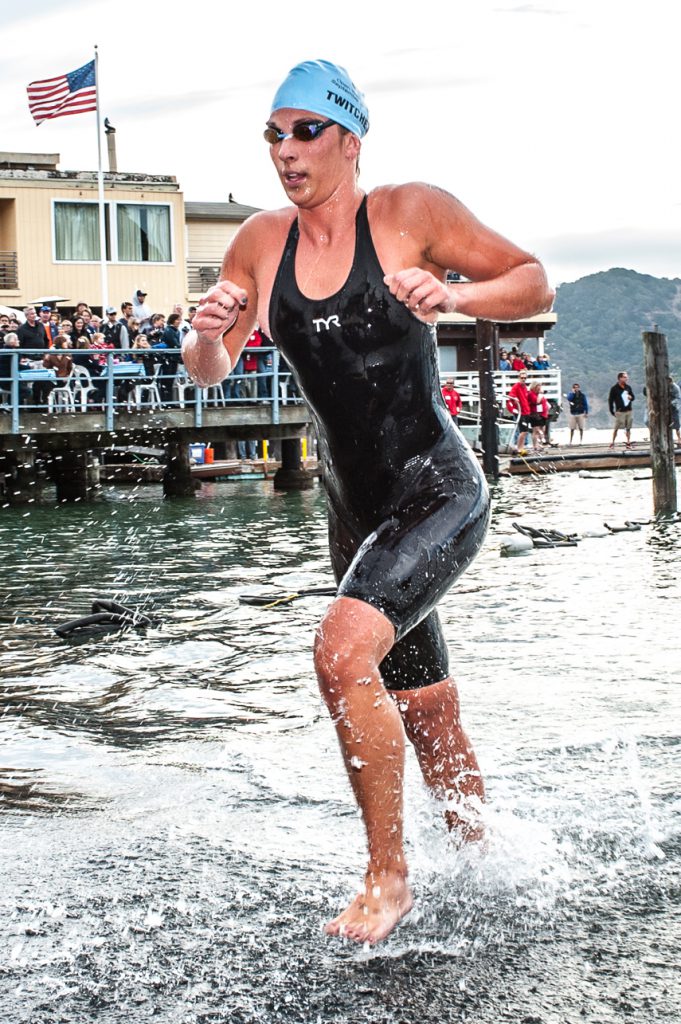 (Photo courtesy of Ian Thurston: ianthurstonphotography.com)
About five weeks post-surgery, following a recommendation from my surgeon, I began going to the K-Lab at Duke University to participate in a unique combination of rehab and sports performance training. It was there that I was initially introduced to the Omegawave technology. At my very first session, my trainer, Jason Shutt, showed me the product and I was instantly intrigued. He ran the EKG test on me and showed me the results; first my overall Cardiac Readiness "number," then the specific components that determined the score: resting heart rate, stress level, recovery pattern and adaptation reserves. We continued to use Omegawave at the beginning of each session thereafter, and based on that day's assessment, Jason was able to modify and tweak the scheduled workout to allow me to get the most out of it. This totally fascinated and impressed me: there are so many benefits to having a tangible resource to gauge how your body is being affected by training. At that point I decided to invest in an Omegawave for my own personal and everyday use.
Having been a swimmer for so many years, I believe I have learned my own body pretty well — that is, I can tell when I'm pretty broken down. That being said, that doesn't mean I know exactly what my body needs in order to recover, or how long it needs to recover. In addition, I am the first to admit that sometimes the mind can trick the body into thinking it is completely broken down when — in reality — it could still perform and benefit from more training. Furthermore, I knew and understood my healthy, pre-surgery body — but I have never before had to regain strength and aerobic base after a surgery and such a long break out of the water. So, it has been really crucial and valuable to have the Omegawave readings to keep me in check. After surgery, the toughest part for me was keeping myself from jumping back into things too soon. By the time I was finally given the 'go-ahead' to get back in the water, I was anxious to start training full-steam; but, obviously, my shoulder and body were not ready for that level of exertion. In this way, the Omegawave was (and still is) extremely useful in holding me accountable and letting me know when I need to slow down.
The Olympic distance for open water swimming is 10K (6.2 miles). Therefore, my aerobic endurance has to be at its prime leading into a race. However, often times open water races come down to the last 500 meters — so finishing speed is extremely crucial as well. In years past, I have struggled with finding and maintaining that balance of achieving enough aerobic endurance while also having that finishing speed. By making use of the Omegawave, my coach and I are able to have a better and more accurate awareness of the days that I would benefit from volume, from intensity, from a mix of the two, or from neither.
Lastly, and perhaps most importantly for me, using Omegawave has been extremely helpful from a mental standpoint. The process of getting back into shape in time for the Nationals in April — while making sure not to push that process TOO quickly for fear of re-injury — is both extremely difficult and frustrating. Having the Omegawave to fall back on for objective readings and measurements on how my body is doing has given me comfort and confidence in the journey — which, in my opinion, is even more vital than the actual physical training.
(Ashley Twichell graduated from Duke University in 2011 as an NCAA All-American. She is a three-time National Champion and a Gold and Bronze medalist in the World Championships.)