The rankings, the records, the odds: none of the numbers suggested that Russian cruiserweight Grigory Drozd was likely to upset Krzysztof "Diablo" Wlodarczyk, a champion who hadn't been defeated in eight years. On September 27th in Moscow, however, the 35-year-old Drozd did just that, scoring a unanimous decision to secure the WBC title.
Perhaps the most surprising element of Drozd's resounding victory was the absence of surprise elements: no fluke punches, no radical strategies, no controversial decisions. Instead, Drozd entered the ring in a state of absolute peak preparation and conditioning and then spent the next 12 rounds outworking and outboxing the highly regarded, longtime title-holder.
Meanwhile, just days after Drozd's victory, Dr. Roman Fomin — Omegawave's Senior Research Scientist — had the opportunity to speak at length with the new champion's physical conditioning trainer, Vasily Volkov. During Drozd's pre-fight training, Dr. Fomin consulted with Volkov and provided remote analysis and regular feedback regarding the boxer's daily Omegawave assessments; in the following interview (which has been translated from the original Russian and condensed), the two speak about how the coach used this information to optimize Drozd's training process and prepare the fighter to perform at 100% of his best.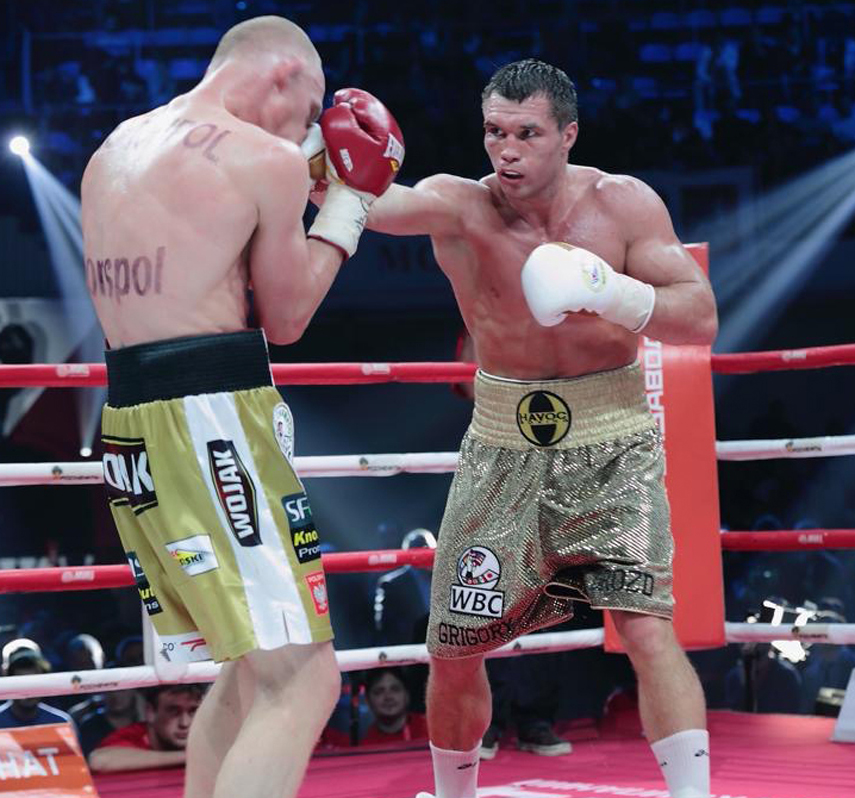 Drozd (right) on the offensive against Wlodarczyk (photo courtesy of Viktor Sokolov, as well as the photo previous).
Dr. Roman Fomin: Please tell us more about the fight. What made the bout so special?
Vasily Volkov: The fight was special indeed. First of all, Drozd had held multiple titles before. He told me: "Vasily, I've won many fights throughout my career, but I've never been a professional World Boxing Champion. After I beat Mateusz Masternak, the European title holder, my promoter Andrew Ryabinsky believed in me and gave me a chance, even though I'm already thirty-five." That's what made it special: he had come so close to his dream.
Secondly, we were the main event of the evening. The other boxers were simply preparing the 8,000-strong audience for our fight. It makes you feel like a star.
Finally, Drozd was not considered the favorite before the fight. The Polish boxer [Wlodarczyk] knocked out another Russian boxer, Rakhim Chakhkiyev, in this very same arena just a year ago. People were telling Drozd it was a bad idea, saying "Do you want to hit the canvas? Go ahead and fight him then…" The audience didn't believe in him. The bookies didn't either.
RF: Can you say a few words about Drozd's opponent? What makes him so fierce?
VV: Krzysztof Wlodarczyk is a very patient boxer. Most of his fights have ended by knockout in the later rounds. What does that tell us? He's a cold-blooded fighter that shows no emotion. He withstands a massive number of hits and exhausts his opponent. As soon as his opponent loses his grip, the Pole goes straight for the kill. Rakhim Chakhkiyev sent Wlodarczyk to the floor in the second round, but got worn out and knocked out in the ninth. Wlodarczyk is always extremely dangerous. A real fighter. He had successfully defended his title seven times against the world's top boxers, and that ought to tell you something.
RF: A very impressive opponent. How did you manage to win the fight?
VV: We've been asked that a lot — "we prayed" is my usual answer. Speaking seriously, though, I'm fond of the expression discipline beats class. We had gigabytes of data on the opponent before the fight that we would analyze together with the training staff. We created a strategy for the fight that involved rapid movements throughout the event and strikes from long and medium distance. Drozd was to avoid close combat, to not fall for the opponent's psychological tricks, and to be prepared to fight the full 12 rounds. He followed this strategy perfectly. Coupled with effective training sessions, this strategy yielded fantastic results.
RF: You have your own sports laboratory: Why did you start using Omegawave in preparation for the fight?
VV: We can easily tell if an athlete has not trained enough, but there is always a risk of pushing too hard. As a coach, I need to immediately spot overtraining. Oftentimes, coaches can't tell the reasons for decreased athletic performance. Is it due to overtraining? Poor sleep? Inadequate diet? There's no way of telling. I'm happy there is finally a system that eliminates uncertainty and tells you how hard you should train today — if at all. What's more important, Omegawave tells you exactly what type of training your athlete is ready for. It's unfortunate that most coaches these days prescribe the training type based on the color of their athletes' cheeks–whether they're pink or pale. In the 21st century we should finally approach training seriously.
Professional laboratories might give you more information, but they're not mobile. We were in a training camp for two months prior to the fight, and there was no way to conduct lab tests. Moreover, we needed the training load data every day. Laboratory analyses take time and resources and cannot be conducted daily. We needed something non-invasive, informative, and mobile-ready to use whenever necessary. Omegawave fit perfectly for the purpose.
RF: Do I understand correctly that your training goals were reached in full? You managed to accomplish everything you wanted, both physically and mentally?
VV: About five days before the fight, the training staff was convinced that Drozd was ready tactically, physically, and mentally. The fight proved that. He could've easily fought for another 5-6 rounds. He did not give in to the opponent, missed on very few punches, and his responses were always quick and fierce.
RF: How would you rate the team that helped Drozd prepare for the fight?
VV: You could say we have an ideal team. We have an absolute level of understanding between the coaches. The head coach [Sergey Vasiliev] does not dominate over the performance staff, and we never tell him which strategy to choose. We treat each other as professionals and we all have utmost respect for one another. He would ask me how many rounds Drozd should train for that day, and I would ask whether a particular exercise could possibly interfere with the fight strategy.
This tandem model is very effective. Our massage specialist, Sergey, would always be with us–both before and after training. Vitaly Miller, who joined us for the final month of preparation, is Drozd's old friend and was coaching the Russian National Muay Thai team. Vitaly helped prepare multiple Muay Thai World Champions this year alone and his experience was invaluable to help improve the technical aspects and find the opponent's weak spots. We have fantastic relationships and that helped us better prepare our fighter.
How did you use Omegawave in preparation for the fight? Tell us of a typical use scenario.
VV: We knew what we needed to do with Drozd over two months–the training sessions had been planned in advance. I needed Omegawave to tell me how ready he was to perform according to our plans. We tested Drozd twice daily — prior to each training — at 8am and 4pm. The data given by Omegawave would help me decide whether to stick to the original plan, or to adjust the upcoming training to reflect Drozd's condition.
RF: Let's go deeper. How did Omegawave help you make decisions in practice?
VV: We had frequent training fights during the final month of preparation for the fight. We assumed that we needed peak concentration during the training fights, supported by a fully recovered and optimal central nervous system. Omegawave has a unique function that shows the status of the central nervous system [CNS]. When the system showed that the CNS was overloaded, we replaced the training fights with running or swimming, where the central nervous system does not play as big of a role and the margin of error was lower.
RF: Absolutely. Vasily, as a coach, what was the most impressive thing about Omegawave?
VV: I was impressed by how detailed the information was. To be honest, I used half of the parameters the system gave me. I can only assume that the training process can be optimized even further if you use all the data Omegawave offers. I also loved the simplicity — namely the iPhone app and the 4-minute measurement.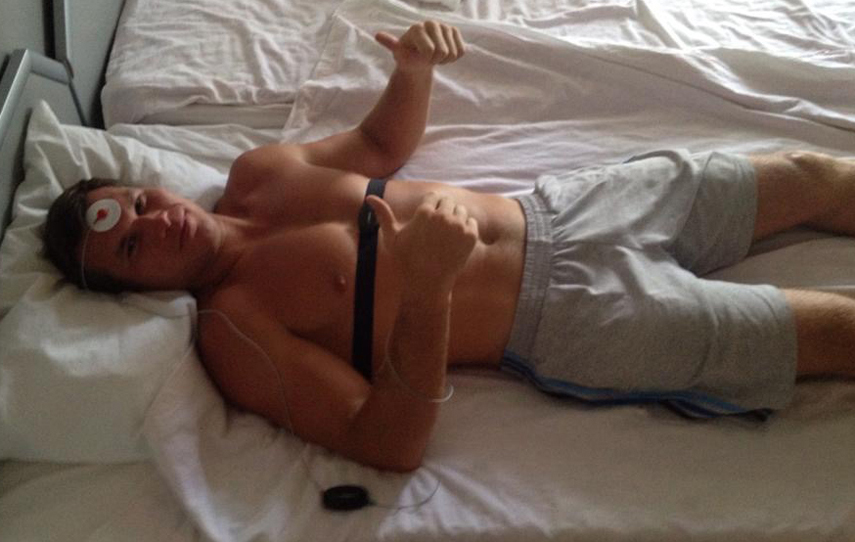 Drozd preparing for CNS & ECG tests with the Omegawave mobile app (photo by Vasiliy Volkov).
RF: Do you have any recommendations for the coaches and athletes using Omegawave?
VV: I would suggest to all the coaches that they embrace the data. Science only makes sense when it can be applied in practice, when you can quantify the processes that are happening to your athlete. Being able to test your athletes is critical. You cannot possibly make the best possible decision without putting a numerical value on the status of their body's functions. I urge my colleagues to work with labs and scientists, embracing technology like Omegawave that allows you to validate your training every step of the way. That's what makes today's coaches truly professional.
RF: Could you tell us more about your career on the way to becoming the coach of a champion?
VV: I worked in fitness for a long time before becoming a coach. I've been a personal trainer in a gym, where I was always trying to improve my clients' functional state by implementing the newest scientific advances in professional sports. I am keen on continuous education and self-improvement. Unfortunately, gym-goers were rarely motivated enough for me to test the newest training techniques. I wanted to see real results, and professional sports is the area where results really matter.
Then I became a coach and kept improving my skills–in coaching and sports science alike. I have opened my own sports lab where I could test my athletes and structure training sessions based on the test results. As my equipment became more advanced, the level of my athletes increased from local masters to international champions. Training Grigory Drozd, now the WBC World Champion, was a logical continuation of my training career.
RF: What is the future of your partnership with Drozd?
VV: We are often asked this question now — is it over, or are we just beginning? On the one hand, we have reached the stars. On the other hand, his life will now change dramatically. The title comes with a whole new level of sponsorship agreements and new opportunities. I think we're not done yet.
I've known Drozd for over 10 years. We met in the same fitness club. He was teaching Muay Thai, and I was a personal trainer. In the past, I had helped him prepare for his fights remotely — by creating training and supplementation plans. Our first significant training experience was in preparation for this title fight. I've been next to him for the last two months, overseeing his training and diet in order to help him approach the fight in the best possible condition. Obviously, we are both very happy with the result.