After bringing home three Olympic bronze medals (one in 2006 and two in 2010), Finnish cross country skier Aino-Kaisa Saarinen heads into next month's trip to Sochi with proven talent and a wealth of experience. Even so, on the verge of those 2014 Winter Games, the Rossignol-sponsored skier still describes the chase for Olympic gold as both an unmatched highlight and a harrowing trial.
"In a certain way, these races have been the most wonderful trips in my life, but they have also been the absolute worst," says Saarinen. "The pressures are unbearable. You just have to deal with it. Even if you don't read the papers, if you didn't start out that well and you don't get the medal right away, the pressures just keep growing and growing. Also, the atmosphere — even among the team — starts to break into pieces, which makes it harder. Of course, if you keep going in the top three from the very first race, it would make everything a whole lot easier. But the expectations are really hard."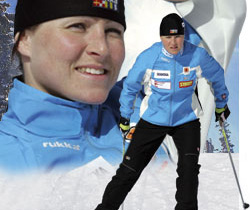 This year in Sochi, Saarinen is targeting the traditional 10K as the race she's looking forward to the most. With that Olympic competition right around the corner, Saarinen has recently been racing in Ruka, which hosts the Nordic Combined season on its expansive cross country tracks through the slopes of northern Finland. During this Alpine training, Saarinen has been measuring herself every morning with Omegawave.
"I do a measurement with it — which I call 'the Wave' — every day," says Saarinen. "It has been very interesting to follow. Omegawave gives a good indication for your own feelings; it supports them. It's been great to notice, especially if you're little unsure. Then, you can always check with Omegawave, and note that, okay, your sensation of your own feelings wasn't wrong. Regardless of whether [the results] were good and that you have recovered well, or if they were poor and you haven't recovered from a race or practice."
In addition to the readings from her ECG belt, Saarinen has begun incorporating the Omega sensor into her measurements as well and is excited by the additional reach and scale provided by the data from her central nervous system.
"First and foremost, it's all about your own feelings," says Saarinen. "However, you can't always be sure whether a flabby feeling is due to a bad diet, that you are lacking energy, or something else, like that you haven't properly recovered. 'The Wave' confirms your own feelings and what they are for real. You don't have to start guessing anymore where to go now."