Juggling multiple commitments is nothing new for Minttu Tuominen — while rising to her position as an alternate captain on the women's ice hockey team for the Ohio State Buckeyes, Tuominen also maintained a key role on the Finnish national team that took home Olympic bronze in 2010. Tuominen graduated in 2013 — one of a small handful of Finnish women to play hockey at the NCAA-level — and then returned to the Espoo Blues in Finland.
"This season has been and will be very busy in hockey," Tuominen tells us. "As we prepare for the Olympics with the national team we have one or two-week camps every month, in addition to my club team's busy schedule in the Finnish league and the European Championship Cup. We play almost every Wednesday, Saturday and Sunday."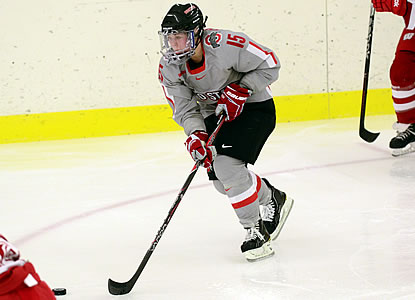 While planning her weekly training goals, Tuominen has made sure to stay prepared for that crucial two-week break for the 2014 Winter Olympics in Sochi.
"I started using Omegawave to be in the best shape possible in February without burning out before that," Tuominen says. "It is really important to know what effect the previous night's game has had on my body, so I'll know what kind of workout I should do to be at my best in the next game. Omegawave helps to assess recovery and there are times when the game has not effected my body too much and Omegawave tells me that I am ready to do a hard workout already in the morning. Before I started using Omegawave, I almost always had an active recovery day following a game day."
Tuominen makes a concerted effort to take an Omegawave assessment every morning — keeping a particular eye on the results she logs the mornings after games and intense training camps. To provide even more comprehensive results, she sometimes also measures herself immediately after both practices and games.
"The workouts after a game day have changed the most," Tuominen says, talking about how she uses Omegawave to better balance hard training and recovery. "I would recommend Omegawave to every athlete (pro or amateur) who has a lot of events and activities coming up, whether they are work, family or sporting events."