The past two years, Meghan Duggan did it all. After serving as team captain for the 2014 US Olympic team, the two-time Olympian helped lead the Buffalo Beauts to a second place finish in the 2015 season of the National Women's Hockey League (NWHL). She applied her years of leadership and elite ice hockey experience as an assistant coach at Clarkson University. She continued to train so diligently toward her goal of making a third Olympic team that she was named one of Sports Illustrated's 50 fittest female athletes. From rink to campus to gym—efforts that drove her across an area of upstate New York ranging from Potsdam to Buffalo, with four-hour commutes the norm during seasons when the weather and road conditions were likely to be anything but friendly.
"It was tough, to be honest," says Duggan. "There were points the first year I did it… there were a couple points where it really weighed on me. I know that I hit a wall my first year in February, and at some point I thought to myself I gotta make a change. I needed to get better at my recovery, I needed to get better at taking time off, because this just wasn't working out for me. So, over the two years I was juggling everything, I guess I matured a little bit in my training in terms of knowing when to dial back or when to take a day off or when to say 'no' to someone or something instead of spreading myself so thin. But also, last year was when I connected with Omegawave—just looking for something that would help me not have to guess how my body was feeling and would give me a clear indication of where I was at and how I was going to be successful training that day or that week."
That ability to juggle everything was nothing new for Duggan—even after she'd received a Division 1 scholarship offer for hockey at Wisconsin (where she played from 2006-2011, finishing as the university's all-time leading scorer), the multi-sport athlete continued to play soccer and lacrosse at her high school, an experience that she says helped "mold her" as an athlete.
"I'm probably one of the biggest proponents of multi-sport athletes," Duggan says. "For me, that was huge, I loved it. I think it triggers your body, your muscles, your mind in so many different ways. It really challenges you in a lot of different areas. It's something that I think keeps athletes fresh at that young age. Obviously, you get to be a college or Olympic-caliber player and you need to become a bit more specific in your training and your preparations, but I think it certainly helped me mentally and physically to develop into the athlete that I am today."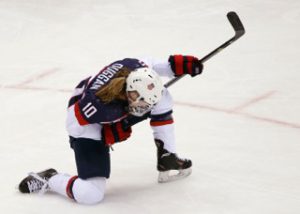 Through the two years of playing, coaching, training, and commuting—though Duggan was able to manage her time and her fitness and keep her head above water—she could see that the combined stress load was unsustainable. This past spring, the two-time silver medalist decided to relinquish her coaching duties and move back to her home state of Massachusetts—in addition to training with numerous teammates from the national squad in the Boston area, she was also able to sign with the Boston Pride for the upcoming NWHL season.
"I'm really excited, obviously," Duggan says. "I just decided that during the next 18 or 20 months I wanted to take a different approach and make sure my full focus was training, and I knew this would be the best environment for me. I was really excited to move back to the Boston area in May, and I've been training here all spring and summer. It will be a big change for me, purely from a rest and recovery standpoint. When I wasn't training last year, I was coaching and traveling and doing a million other things, so being able to just solely focus on training, playing, rest and recovery, minimizing travel—it's going to be huge for me the next season.
"The travel alone stressed my body a lot. It was something that, again, it was the life I was living and it was what I was doing at the time, and I tried to counteract the stress as best I could. When I had someone with me, if they were driving I would really try to shut down and let myself recover while I was sitting in the passenger seat. I always had lacrosse balls and tennis balls and things like that, which I would be rolling under my seat and under my hips when I was sitting in the car for long periods of time. But a lot of stress I just couldn't avoid. The driving really took a toll on me, and as much as I made it work, would it be the best decision for me to continue on the same way for the next two years? Definitely not. And, again, that's why I've completely removed that stress out of my life and am really excited about focusing on the games I can make in the next little bit while not having to deal with those extra stressors."
In addition to eliminating those added forms of stress, Duggan is looking forward to being able to better match her training to her body's functional state each day—so often on the go, in previous years her training could sometimes be dictated more by the amount of time she had available than by the type of workout she was best prepared to handle.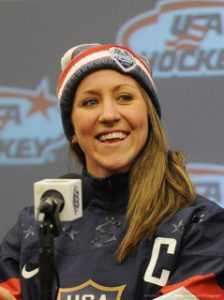 "This past year, I tried to follow my Readiness as much as I could," Duggan says. "But there were a couple times where, maybe I didn't have everything planned out and organized exactly as I would have hoped. And, again, that's why I've made this move to just to focus on training and being able to align everything perfectly. As all elite athletes are, I'm a perfectionist. I'm super Type-A and I want everything to go exactly how I want it to go, especially when it comes to my training. So, there were a few times this past year where I had to push through or where I had to make a judgment call based on the time I had or the access I had to a certain facility when I was on the road… I had to juggle things up a little bit."
To keep tabs on her Readiness, Duggan has developed a routine where she takes an Omegawave assessment in the morning, 20-30 minutes after waking up as she prepares herself for the day. Then, breakfast, coffee, and training.
"For me, I'm pretty go-go-go, so it's harder for me to slow down," says Duggan, talking about modifying her training plans based on her assessment results. "On the days where [Omegawave] gives me the green light and I'm green all the way across, I love that. When that happens, I'll allow myself some extra challenges that day or really allow myself to push in extra areas or throw in extra conditioning and feel okay about it and not feel that I'm overtraining or anything like that. I definitely like to take advantage of those days."
Duggan's Omegawave results are shared with Anthony Donskov (a strength coach who has worked with the US Team), and sporadically the two will touch base about general trends in the data; Donskov, however, isn't the preparation coach that Duggan works with on a daily basis, so she typically evaluates her own assessment results and acts accordingly. In terms of particular indexes, Duggan cites the Windows of Trainability as providing a helpful guideline for her training.
"Hockey is a lot about speed and power and strength," Duggan says. "So I tend to look at those Windows of Trainability more often because a lot of the exercises that we do are speed and power based. Endurance and coordination and skill are obviously a huge part of our sport as well, but I tend to try to keep an eye on the trends of speed and power and strength as often as I can, because for the most part that's what our workouts are built around. For us, in our off-ice training in the summer, we go in three week phases. Normally, towards the end of a phase, you've been grinding it out and doing the same phase for three weeks. The weights are up and the reps are up and towards the end of that week, those Windows of Trainability are starting to get into the yellow and red, so I definitely see that trend within our off-ice training. But then I know that, it's been a hard week, and I can use a few days to recover to get back to where I need to be to start the next phase that's going to come on Monday."
Amid the lifestyle changes that have facilitated her training this summer, Duggan has also enjoyed the extra jolt of excitement provided by the spectacle of the Summer Olympics in Brazil, further spurring her on toward her ultimate goal of reaching the 2018 Winter Olympics in South Korea.
"As an Olympian, you feel a sense of pride watching all the US teams and all the US athletes," Duggan says, citing Serena Williams' longevity and drive as an influence while highlighting tennis, gymnastics, swimming, and track and field as the events she planned to keep a particular eye on. "I like to watch all the interviews and try to pick up on certain habits or traits that I can use in my sport and in my preparation for our team. You know what they've been through, and hearing and listening to all their stories, it's just incredibly inspirational."