"The first two words out of my mouth when I finished were never again," Charlie Brockus says, telling the story of his first Kona Ironman, back in 1994. "And then when I woke up the next morning, doing the 'Ironman Shuffle' to the bathroom, I said I know how I can go faster."
Twenty years later (and now competing in the 60-64 age group), Brockus is only a few months away from returning to Hawaii for his ninth time in the Kona race: a 2.4 mile open-water swim, a 112 mile bike across the coastal lava fields, and finally a full marathon in all the day's salt and heat. Though he's progressed into a higher age bracket, the Reno, Nevada resident quickly dispels any question about whether his competitive drive has diminished over time:
"I always try to compete with myself, but I research all the other racers," Brockus says. "I know their weaknesses, I know their strengths, I know everyone in the race and what they're potentially going to do. A lot of people say they don't even look, but I research everybody. I want to know if I have a shot."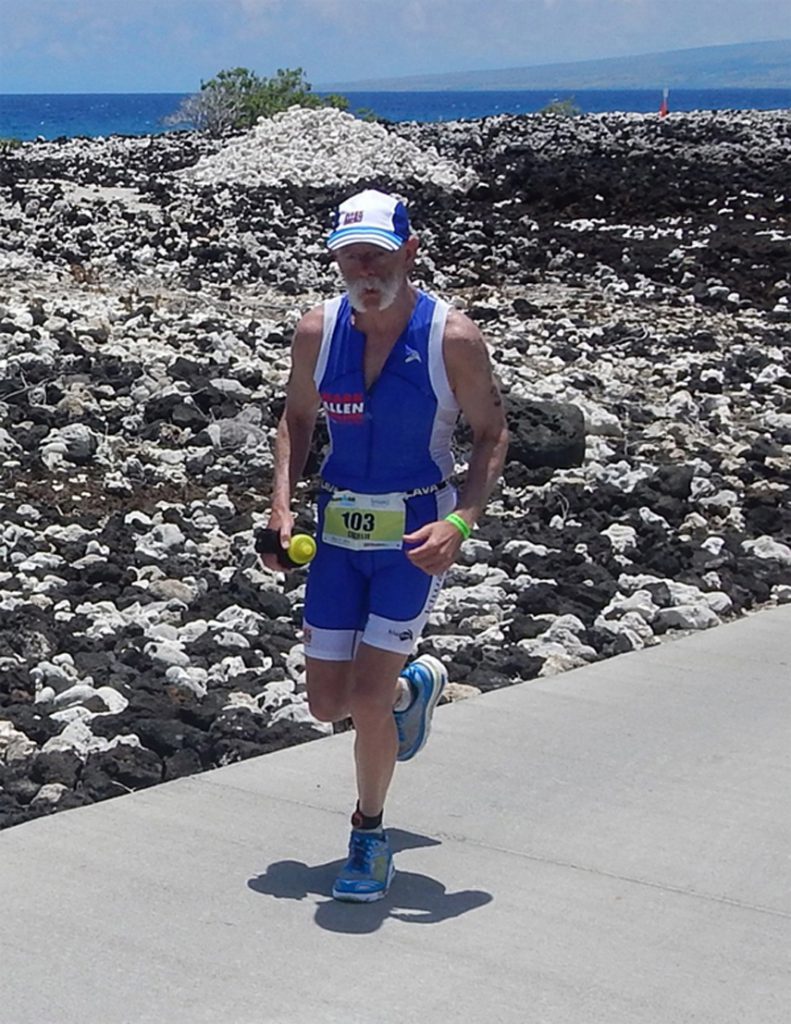 Charlie Brockus, mid-race at the Ironman 70.3 Hawai'i .
A lifelong runner, Brockus began competing in triathlon in 1985. He'd suffered a broken neck in a car accident several years earlier, and swimming helped him to regain upper-body strength in those muscle groups that atrophied in the wake of his injury. Thirty years later, Brockus's neck can still cause setbacks and force off-days — particularly when new weather systems sweep into Reno's high altitude. As a consequence of that lingering pain — as well as the diminished elasticity and resilience that naturally come with aging — Brockus considers injury prevention and recovery to be crucial elements of his training plan.
"I'm trying to listen to my body a lot more," Brockus says. "When I was younger, it was easy to say 'Well, I'm going to go out and do the workout no matter what.' Now, when I get up and I'm thinking something's wrong — and it doesn't necessarily mean I shouldn't go work out, because sometimes I'll go out there and I'll say 'I don't feel real great' and I'll have a great workout. But there are more times than not when I should just say 'No — I'm not going to do it.' And that's where Omegawave comes in."
"I do it each morning and try to determine how hard I should go today and am I okay to go hard," Brockus says, describing how he's integrated daily assessments with Omegawave Personal into his training routine. "It was interesting that after my weekends, after my long weekends, it kind of tells me that my recovery is a little slower than it should be. Or, my recovery isn't perfect. Then I say, 'okay, I've got Monday off anyway,' so no big deal. And I take Monday off and that brings (my measurements) back into play."
Brockus — who holds a PhD in Pathology and a DVM in Veterinary Medicine from the University of Georgia — began taking a more scientific approach to training after phasing through several personal coaches whose methods left him burnt-out and on the brink of quitting the sport in 2004. From that low-point, Brockus significantly changed his approach in 2006, when he started to train with renowned coach and six-time Ironman champion Mark Allen.
"I (signed on) with Mark, and his main goal is to get you ready for long distance, which is to develop your aerobic engine," Brockus says. "So I started trying to run by heart-rate and I e-mailed him and said 'I can't do this, Mark, it's not helping.' And he said 'What do you mean?' And I said 'I'm running at 10:30 per-mile.' He said 'Trust me, just stay with it.' Next thing I know, six weeks later, I'm running at 8:30 per-mile with the same heart rate — and I wasn't completely toast after every workout because I didn't have my heart-rate up extremely high. That has helped me stay in the game, so I'm not over-training all the time and completely out of gas."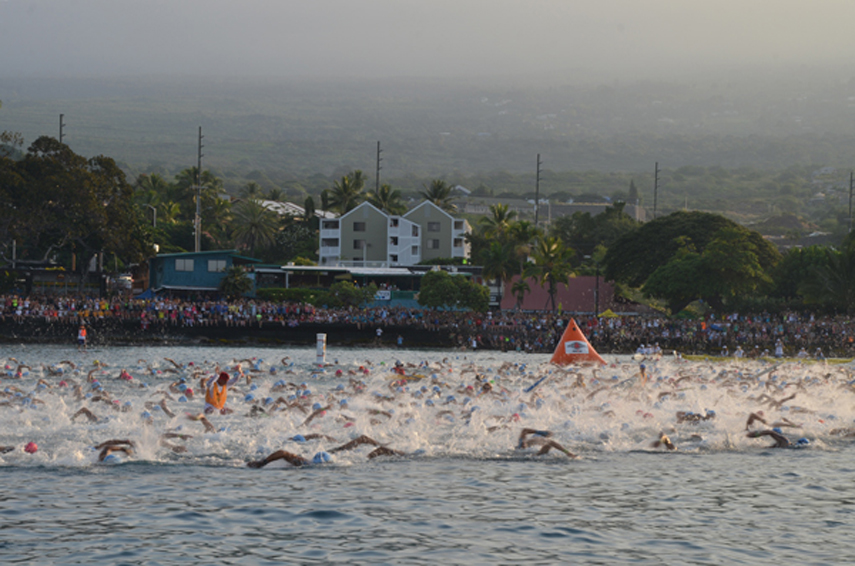 Brockus now competes as a member of the "Elite Team" for Mark Allen Online, and it was Allen who first introduced Brockus to Omegawave. Following some personal challenges training for the 2013 Ironman Kona, Brockus became interested in the technology as a way of better managing his recovery in the lead up to competition, during which time he trains from 20-24 hours per week.
"Mark saw me about a week or two before the race (in Kona), and he kind of looked at me and tilted his head and said 'are you okay?' And I said 'yeah — but I'm hanging by a thread.' I was literally hanging by a thread. I was down to 133 lbs, which is too light. And he said 'back down if you need to — nothing more is going to help you now.
"So I got to race day and I felt rested enough. I had a very good swim and probably my best bike ever. Then I got to the run and I said 'Uh-oh — something's wrong.' So I decided to drop back and try to do nine-minute miles, which would still give me a sub-four-hour time. And I got up to the top of Palani [an uphill road on the course] and I started running and I went Uh-oh — my thighs felt like someone had beaten me with a pipe.
"And then I started leaning to the left. I kept pulling myself up as I was running and then I would kind of lean back over and start veering to the left and I was going 'what in the heck is going on here?' I was like the Leaning Tower of Pisa. Mentally, I started getting fried, thinking I gotta get to the finish line, I gotta get to the finish line, I gotta get to the finish line. And I kept running and running and when I finished, I hit the stanchion and I hung on to that finish line. I stood there and they came and got me and took me to the Med-Tent, and at the entrance they said 'it may take a couple minutes' and I said 'it may be a couple of minutes for you, but I'm going down and I'm going down now.' And — boom! My legs just wouldn't hold me up."
Three weeks after that race, Brockus was still too sore to make it out on the road for a short run. Still, he never lost the drive to get back to island to compete again, this time keeping a close eye on his Omegawave measurements as he prepared for the Ironman 70.3 Hawai'i (nicknamed "Honu"), a race for which Brockus needed to win his age group in order to secure a qualifying slot for Ironman Kona.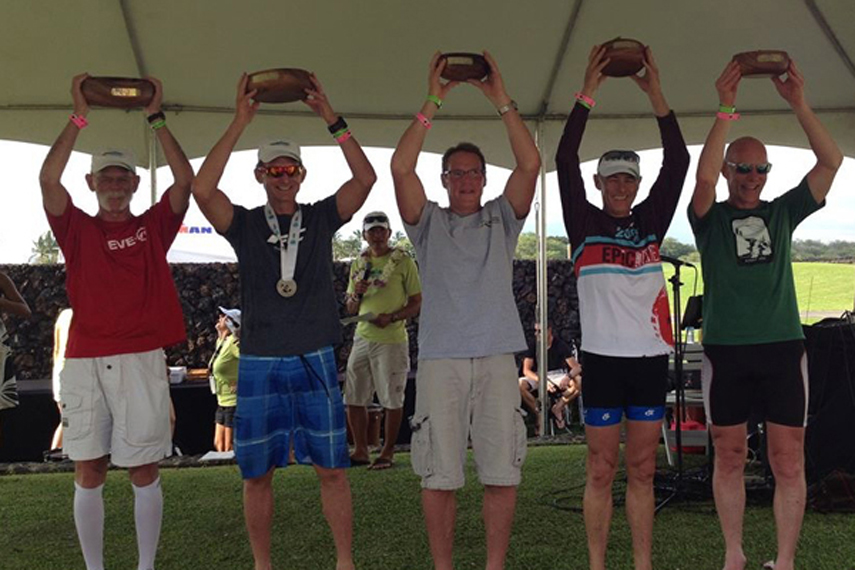 Brockus (far left) at the awards ceremony for Ironman 70.3 Hawai'i.
"I'll be doing it [Omegawave] all the way — at Honu I wasn't able to test myself race-morning, but I figured that was okay because the day before I was 'Very Good.' And that's a brutal race. But I'm going to use Omegawave right up to the end, because if I have weekend where I have a seven-hour bike ride and a thirty minute run and then the next day I have a 2 ½ hour run and speed swim and an hour on the bike and my readings say you need to back off, I'm gonna back off."