While the twelve host cities raced to finalize preparations for the June kickoff of World Cup Brazil, Omegawave dedicated a stretch of April to our first extended tour of the country. Ten days, three major cities, and upwards of twenty professional visits, an itinerary that featured stops at many of South America's mightiest soccer clubs while also including university presentations, military demonstrations, and a meeting with the Olympic Committee of the host nation for the 2016 Summer Olympics in Rio.
Omegawave's VP of Business Development, Val Nasedkin, and our Team Leader of Customer Support Mikael Liimatainen led the Omegawave contingent, assisted in groundwork and logistics by Luís Canevari, from our Brazilian distributor Keiser, and Professor João Carlos Bouzas from the Federal University of Viçosa. Recognizing Brazil as a fertile and largely untapped market, Nasedkin and Liimatainen first touched down in São Paulo, the country's largest city. Unsurprisingly, here in the nation that popularized "o jogo bonito," elite football organizations dominated the schedule, beginning with meetings at a pair of football clubs with histories that stretch back a full century: Palmeiras and Corinthians (home squad for both Roberto Carlos and Ronaldo in 2010).
"In Brazil, unlike in European football, the pace of the schedule is so hectic, where they play two games a week during the season, as opposed to Europe where there's only one game," explains Liimatainen (ideal for his role in the tour as — in addition to Finnish — he also speaks Portuguese, Spanish, French, English, and Italian). "The physical load on the players is very high and they have very little margin in terms of exercises and practices outside of the games to improve fitness, so the bulk of their developmental work is done during the off-season. In-season, the focus is on maintaining and keeping the guys playing, so the coaches saw Omegawave as a very compelling tool."
After São Paulo, the next stop was Rio, where Liimatainen says "you could definitely feel the frenzy of the Copa" — both in terms of competitive anticipation and the construction roadblocks and traffic jams gridlocking the city. In Rio, Omegawave conducted presentations for Flamengo (one of only a handful of Brazilian football clubs that have never been relegated to the second division), Botafogo, and the academy for Fluminense. From club to club, Nasedkin and Liimatainen were impressed by the quality of the training facilities and the professionalism of the coaches and doctors present at their meetings.
"We saw Polar, we saw thermographic cameras, we saw blood panel work, all the same materials you see in top European football clubs," Liimatainen says. "They are using more micro-level tools to analyze a macro-level response, and in our philosophy we take an opposite approach, trying to provide a macro-level tool for coaches. Discussing the value of that method was a key to our presentations."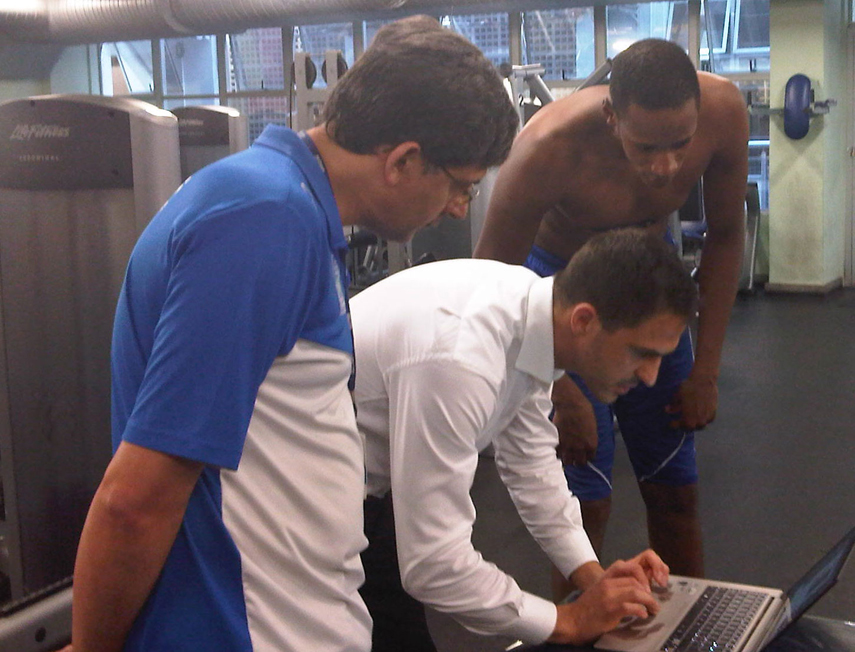 (Photo: Mikael Liimatainen, sharing assessment results with a professional basketball player at Minas Tênis Clube.)
Leaving Rio, Nasedkin and Liimatainen closed out their trip in Belo Horizonte, where they visited Cruzeiro (the current Brazilian league champion) and Atlético Mineiro (home team of Ronaldinho and the reigning champion in South America's Champion's League, the Copa Libertadores).
Amidst that full slate of football clubs, Nasedkin and Liimatainen also had a productive visit with Brazil's Track and Field Federation in São Paulo (whose coaches, by coincidence, had earned sports science degrees in Moscow and perfectly spoke Nasedkin's native Russian); additionally, Omegawave spoke before a gathering of professors and PHD candidates in the Department of Physiology and Sports Science for the University of Rio de Janeiro, met with the Brazilian military's Institute of Research for Physical Preparation (IPCFEX), and conducted a key engagement with the Brazilian Olympic Committee in Rio.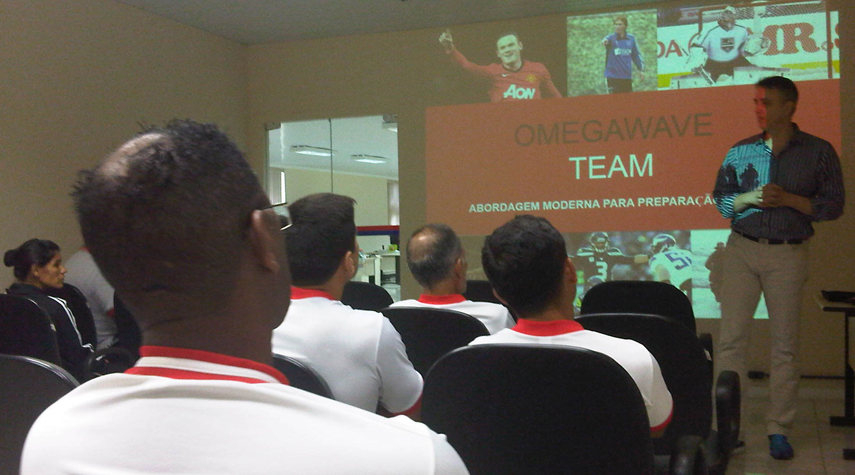 Val Nasedkin leading an informational presentation at Brazilian Military's IPCFEX (Instituto de Pesquisa da Capacitação Física do Exército)
In Belo Horizonte, the sprawling Minas Tênis Clube provided one of the tour's highlights, as among its pools, courts, and gyms the massive facility includes an on-site high performance department, composed of physiologists, physical therapists, and performance experts available to help their members and athletes.
"I've never seen anything like that before anywhere," Liimatainen says. "A huge, huge private sports performance center: 40,000 individual members ranging from recreational athletes who go to the gym to exercise or to swim or to play tennis to Olympic-level athletes who use their facilities and coaches to improve peak performance. An incredible range of different kinds of athletes and different sports disciplines."
While the upcoming World Cup and Olympic Games have roused Brazil with unprecedented levels of activity, the tour was not without its challenges, often born of the nation's rush to complete the infrastructure to host these international events. "I was in Rio for a month in 2007 studying Portuguese and I could sense that the quality of life has been negatively impacted and the city-wide stress-factor has increased tenfold," Liimatainen says, citing chaotic and crippling traffic, major planning issues, and the high cost of consumer goods that has accompanied the rush to prepare for the global stage.
As Omegawave makes further inroads into the Brazilian market, Nasedkin and Liimatainen also learned they would need to overcome a cultural resistance to outfitting athletes with mobile devices, as numerous coaches and organizations suggested that within Brazil's freewheeling sporting culture the players weren't likely to follow testing protocols and maintain their own hardware, so rather than cloud-based technologies most of the clubs expressed more interest in solutions that centralized testing at team-controlled facilities.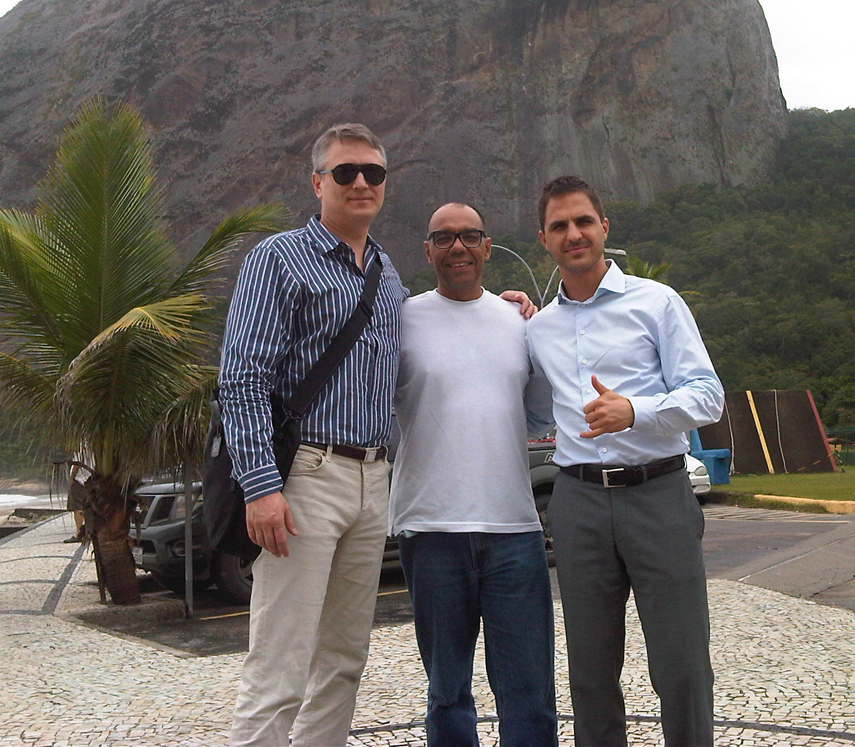 Nasedkin, Liimatainen and Professor João Carlos Bouzas in the military base in Rio de Janeiro.
"Overall, we were very pleased with all the positive feedback and how concrete the interest in buying and using the system was," Liimatainen says. "Obviously, now it remains to be seen what materializes from the trip and how we can best capitalize on that interest."