Omegawave has spent years helping elite athletes prepare to be Ready when it counts, and at Under Armour's Future Show in Baltimore we had our own opportunity to rise to the occasion, earning the contest's top prize.
Covering the intense, real-time competition, The Baltimore Sun described the event as Under Armour's "annual best ideas contest for established companies and startups alike. The fourth future show was billed as a "Connected Fitness Innovation Challenge." Under Armour wanted to hear about "the next generation" of digital apps and wearable technology that could potentially fit into MapMyFitness software." [Read the full Baltimore Sun article here.]
"This was truly an amazing experience," said Omegawave CEO Gerard Bruen, who was joined on the competition floor by VP of Business Development Val Nasedkin. "I have worked in and with some major consumer brands over the years and what Under Armour did at this event was truly innovative. [Under Armour CEO] Kevin Plank and their team should be very proud of their open-minded approach — it's a welcome change from those organizations that only believe a product is worthwhile if it was developed in-house."
As part of that forward-looking concept, Under Armour selected Omegawave's wireless fitness solution from a field of over 1,000 original applicants and fourteen competition finalists. Judging was conducted by a panel that — along with Plank — included MapMyFitness founder Robin Thurston.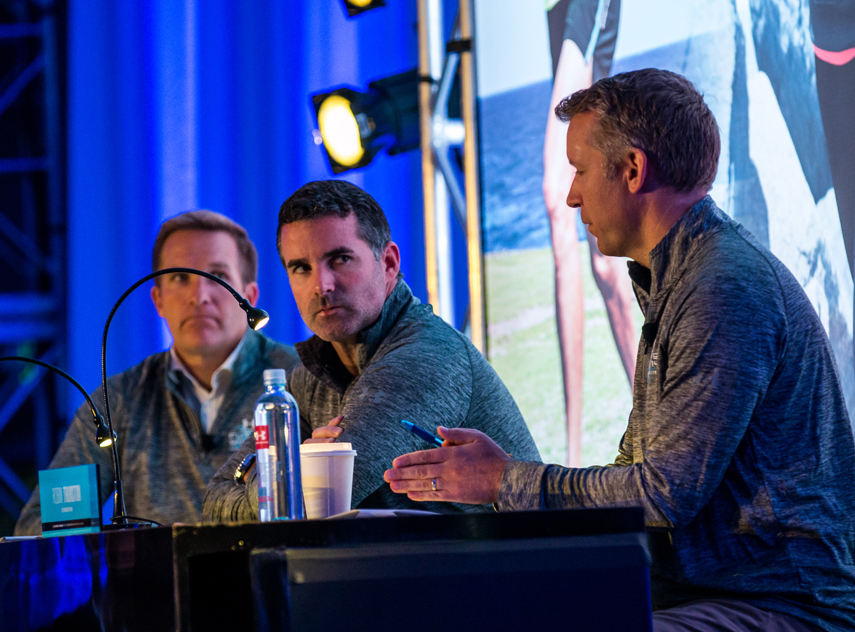 Under Armour Founder and CEO Kevin Plank (middle) with Senior Vice President of Innovation Kevin Haley and Senior Vice President of Connected Fitness Robin Thurston. (Photo provided by Under Armour)
"The most important part of the event for me was the way Under Armour welcomed entrepreneurship with open arms," Bruen continued. "They have a very special thing going as a team and from day one they opened their doors and made all of us feel like part of the family. A lot of companies could learn quite a bit from their example — it really was an open and genuine dialogue, which makes you ready to trust and put forth your very best effort."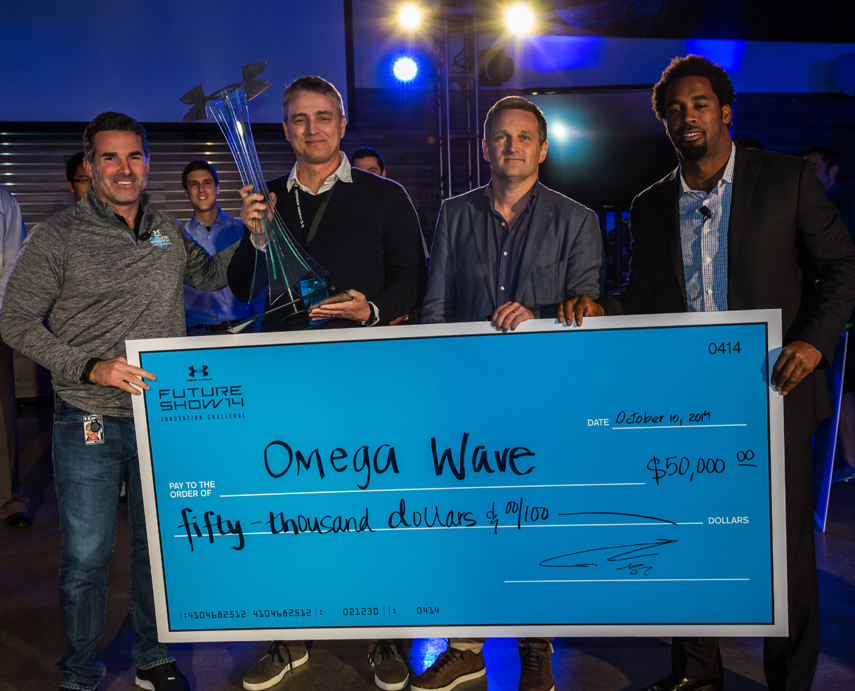 Plank, Nasedkin, Bruen, and Future Show emcee Dhani Jones. (Photo provided by Under Armour)