On May 30th in Moscow, Alexander Povetkin (27-1, 19 KO's) knocked out Manuel Charr (26-2, 15 KO's) to earn the WBC International Heavyweight title. The 34-year-old Povetkin dominated the fight, with his 29-year-old opponent clinching frequently and showing visible signs of fatigue by the sixth round. While Charr tired, Povetkin continued to snap off crisp uppercuts and land powerful combinations, dropping his younger opponent in the seventh round with a pair of ferocious right-hooks.
As Povetkin was training for this critical match, his Physical Conditioning Coach, Andrew Kozlov, measured the fighter three times a day with Omegawave. Based on the results of those daily assessments, Kozlov and Povetkin's head coach, Ivan Kirpa, developed a dynamic training regimen that continuously accounted for and adapted to the boxer's physiological state.
Dr. Roman Fomin, Omegawave's Senior Research Scientist, also contributed to this pre-fight preparation. After the title bout, Omegawave had the oppportunity to interview Kozlov about the application of our technology and methodology to Povetkin's training process (the following interview has been translated from Russian).
Omegawave: How did you use Omegawave in preparation for Alexander Povetkin's title fight with Manuel Charr?
Andrew Kozlov: We measured Alexander three times per day to see how his condition would change over the course of the day. We focused on measuring him after a recovery period or a change in training types or physical loads.
We would always start with a measurement after waking up. Alexander's day would begin with an Omegawave measurement and a morning workout, followed by more rest. There would be another measurement and a workout before lunch. We would repeat the same process in the evening for the third and final training of the day to adjust the upcoming training loads. If the measurement results during one of the daily measurements appeared less favorable than expected, we would lower the training load for the upcoming session, for example by removing functional or strength training and only going for the skill training.
OW: Do I understand correctly that you dynamically planned the training management process, instead of planning for three months in advance?
AK: It was entirely dynamic. We did have weekly plans, but they ended up changing dramatically each time, based on the Omegawave readings.

We would review the big picture weekly and realize that we may have gone too fast or too slow with our goals. We would then adjust the training plan for the upcoming week. Every week we would change the plan, up until the day of the fight.
OW: Which control points or benchmarks did you look to in preparation for the fight?
AK: The only control points we used were training fights. Almost the entire coaching team was replaced in preparation for this fight and new processes were introduced. We started building a "car" from scratch. These new specialists were like car parts. We brought in new tires, a new steering wheel and a new engine. But in order for the car to work a lot of fine-tuning had to be done.
OW: I assume you're referring to Povetkin as the body of the car?
AK: Correct. He was like a car that needed assembly. We put it together the way we could and did all we could to turn it into a supercar.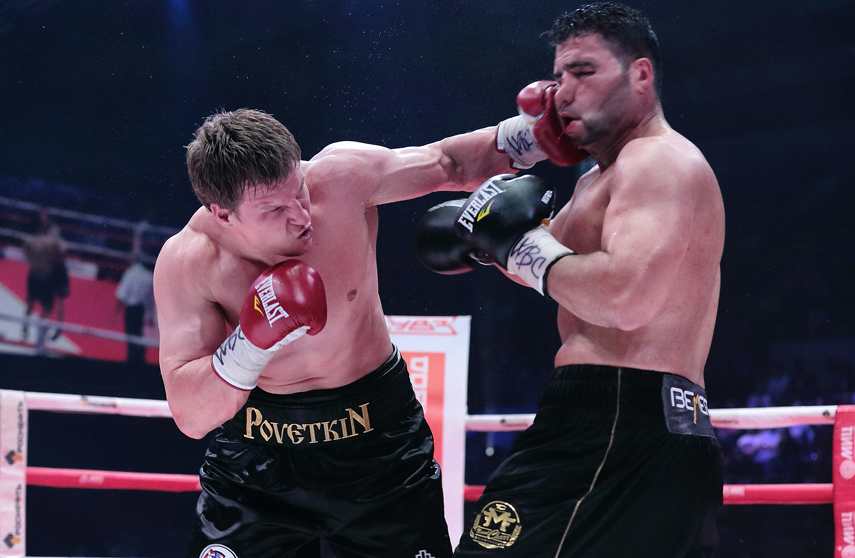 Photo by Viktor Sokolov
OW: What were the main differences in preparation for this fight, as opposed to the fight with Wladimir Klitschko?
AK: We tried to create a unified training system. In preparation for the fight with Klitschko [Povetkin's lone defeat, by unanimous decision in a 2013 title challenge] the training staff was not working together very efficiently. We re-imagined our processes for the fight with Charr and made sure every component of the system worked in synergy, complementing one another.
OW: It's important for me to understand the core differences between this new system you are putting together with Povetkin, as opposed to the approach that had been used in the past. What are the main differences?
AK: If we don't talk about biological methods, the biggest difference would lie in improving the training conditions. Many coaches these days say that you should eliminate comfort in training, artificially provoking anger in the athletes. With Povetkin, on the other hand, the more comfortable his training conditions the better he trains.
OW: What do you mean by comfortable training conditions?
AK: Those that affect his mood. Comfortable training conditions make him feel good. He can train according to schedule, he can eat and rest without worries and extra hassles from the staff or the training environment. The only stress should come from heavy training loads. You should try to eliminate psychological stress. Get rid of the people or things that cause negative emotions. These methods create the ideal training conditions for Alexander.
OW: Did psychological stress and mood swings affect his training negatively in the past?
AK: He used to keep negative emotions inside, which would be reflected in his training sessions. He would oftentimes come to a training session not wanting to put the effort in. In preparation for the title fight, we were surprised to see him train three times per day. For the first time he actually enjoyed his morning cardio sessions.
OW: What role did Omegawave play in creating these comfortable training conditions?
AK: Dynamism. Stepping away from routine training and preparation templates. Omegawave narrows down the pre-defined training plans from months to weeks or even days, creating training conditions that listen to your body and produce real results.
OW: What did Alexander Povetkin himself say about our technology?
AK: Povetkin thinks that with Omegawave we have access to the best technology that puts him a step ahead of other boxers. Alexander thanks the company and Dr. Roman Fomin personally for helping him get better every day.
OW: So in your opinion, would you say that our technology was part of the system that helped create these optimal training conditions?
AK: Absolutely. It helped create and control optimal training conditions.
OW: Did anyone else from Povetkin's coaching team have any feedback about our solution or using it in practice?
AK: In the beginning we had to face a lot of doubt, but over time — fueled with real results — it grew into absolute trust.
OW: What was the nature of those original doubts?
AK: They trusted the analysis, but were wary of applying the results in practice. Shortly afterwards they started asking me to take measurements, because the advice seemed factual and accurate. After this introductory period, our coaches began using Omegawave religiously.
OW: What would you improve about Omegawave and what would you expect from our partnership in the future?
AK: In the future I would like to see Omegawave work during exercise. I would like to see it calculate heart rate per minute. This would be excellent for boxing and sports like football and hockey. Even more importantly, I would like to see a practical neuromuscular system assessment. Oftentimes the cardiac system is still good to go, but the athlete's muscles have given up.
OW: How would you describe the preparation process of today's elite boxers? Do coaches use enough science and technology?
AK: Absolutely not enough — there is little to no science being applied. Amateurs might try to use some recent findings in sports science, but it never leaves that lower level. Sports science doesn't seem to target the demands of modern boxing — it is completely segregated, with no real benefit to coaches and fighters. We are happy to see Omegawave among the leading companies trying to change that.