The 2014 European Championship of American Football will kick off on May 30th, with national teams from Finland, Germany, Sweden, France, Austria, and Denmark taking the gridiron in stadiums across Austria. A grueling competition of games on top of games: each team has only a few days of rest during the week of pool play, leading up to the final on June 7th in Vienna. Among those lining up for Finland's squad is an Omegawave-trained athlete, offensive lineman Iiro Luoto. Luoto's extensive professional career began in 2005 as a tight end in NFL Europe; from there he moved on to a spot on the New York Jets' practice squad before eventually coming home to Finland, where he now plays for the Helsinki Roosters.
By examining a year's worth of results from Iiro Luoto's Metabolic Reaction Index, we can gain some insights into how to manage the training for power athletes as they ready themselves for peak performance. The Metabolic Reaction Index — a key assessment in the Omegawave Team system — provides an indication of the overall efficiency of the energy producing systems as they integrate toward the common goal of better conditioning.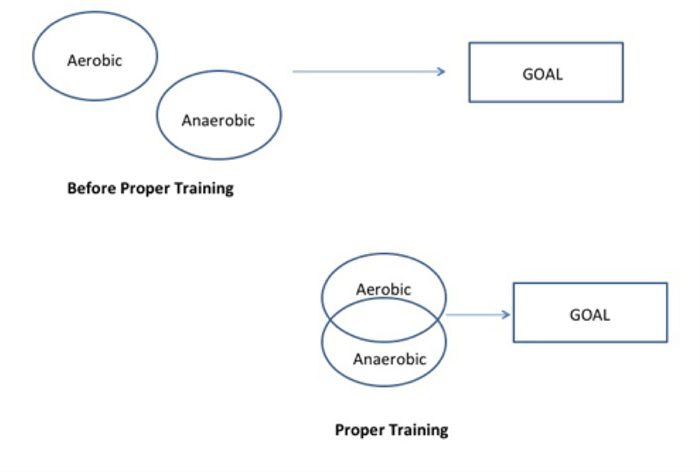 For an interior lineman like Luoto, the functional balance of both the aerobic and anaerobic systems is crucial: at each snap of the ball, Luoto needs the explosive power to either drive defenders back off the line or to shift laterally and cut off oncoming pass-rushers. Meanwhile, offensive lineman typically rotate off the field far less often than running backs and receivers, so they also need the endurance to grind it out and execute for series after series.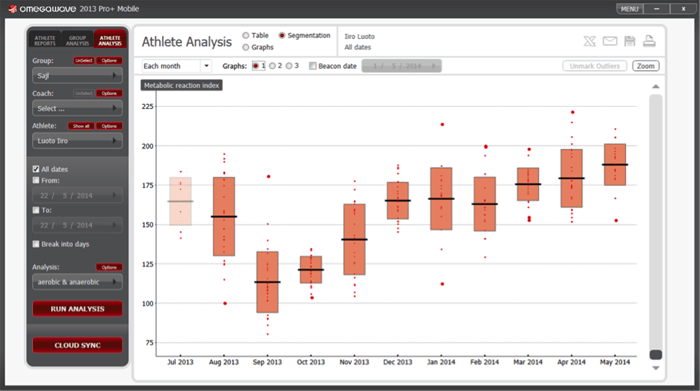 Omegawave Segmentation graph showing the month-by-month values for Iiro Luoto's Metabolic Reaction Index.
The Off-Season:
For elite athletes, fitness is a year-round process. Looking at Iiro Luoto, in 2013 his club season ended in late August — as a consequence of the stress and strain of that playing schedule, we can see wide fluctuations in the red dots marking his individual assessment scores during that month. The fluctuations in Luoto's scores (as well as a substantial drop in the black-lined mean) continued into the early months of the off-season: from September to November, Luoto was working on strength and power development, lifting four times a week. During this period, Luoto's lower values for the Metabolic Reaction Index suggest that his body was utilizing its anaerobic metabolism to recover; while this was an expected result for Luoto's regimen of strength and power work, in the long run it's not the way you want your athletes' cardiac systems to adapt to their training.
Moving on to mid-November, we began to see a significant increase in Luoto's Metabolic Reaction scores, which likely resulted from a change in his training method. At this point, Luoto dropped from four weight training sessions per week to three, while also adding 15 minutes of low-intensity cardiac output work to the warm-up for each of his training sessions. With this modification, we were able to balance his aerobic and anaerobic energy supply systems to increase their overall efficiency.
Returning to the segmentation graph, you can see a wide variance in Luoto's results once again in January, but this was most likely due to illness: as soon as the player was healthy again, his values returned to their normal levels. Another drop in his scores followed in February — preparing for the upcoming pre-season, Luoto had returned to lifting four sessions a week.
The Pre-Season:
In order to avoid the undesired type of adaptation we charted during Luoto's heavy weight lifting period the previous fall, while he was lifting four sessions a week in February we added heavy resistance cycling to his training, which helped achieve a better balance between his aerobic and anaerobic systems. Heading in to March, the increase in his Metabolic Reaction Index may have been due to that addition of resistance cycling, though a reduction from four weight lifting sessions to three may have played a role as well.
In March, Luoto began pre-season training for his club team, the Helsinki Roosters. This brought a host of new anaerobic activities into the picture, but between three football training sessions a week, the heavy resistance cycling, and limiting his lifts to three weekly sessions, we seemed to find a positive balance in his training.
In April, however, Luoto participated in two preparation camps: one for the Roosters and another for the Finnish National Team. Not surprisingly, his index scores again showed significant fluctuations, reflecting the demands of that workload. These camps, however, are always followed by a de-load week, and after that recovery time we plotted the year's highest values for Luoto's Metabolic Reaction Index. As you can see, the athlete's training program was paying off in a measurable increase in the overall efficiency of his energy supply systems. Following this, Luoto's weight training was modified to two lifting sessions per week: one developmental and the other stimulative.
The European Championships:
Team Finland begins their pool play on May 30th against Germany, after which they'll line right back up against Sweden on June 1st. No matter the results in these two matches, their next game will be less than a week away. To succeed in this brutal schedule, lineman like Iiro Luotto will need to rely on top conditioning and a properly functioning cardiac system.
Although the reduction in Luoto's anaerobic activities may explain the small increase in values we tracked from April to May, an important result heading into the European Championships is the steady rise in the player's mean scores. At a time when he needs to be in peak conditioning, we're recording the highest monthly averages of the year, while also seeing fewer broad fluctuations. These results indicate the consistency necessary to perform game in and game out, so come kickoff, Iiro Luoto should be ready.
By Jesse Talikka, Strength and Conditioning Coach, Finnish National Team